Investors are bracing for another volatile trading week as U.S. government stimulus and hopes of a V-shaped recovery have fueled an unprecedented bull-run since the markets hit a bottom in March amid the pandemic. Still, coronavirus continues to spread, creating doubts about a quick economic recovery.
U.S. cases rose 1.6% on Saturday, the biggest jump in three weeks, as more than 30,000 infections were reported for a second straight day. Florida set another record for cases of outbreaks. After gaining more than 40% from the March lows, the S&P 500 turned sideways in the past two weeks, trading at similar levels to early June.
But, though U.S. stock indices gave up some gains on Friday, they still closed higher for the week. The S&P 500 advanced 1.8% on the week, its fourth positive week in five. The 30-stock Dow rose 1%, while the tech-heavy NASDAQ outperformed, rising 3.7%. Along with the broader market-moving events, here are three stocks we'll be focusing on because of specifics related to their individual performance:
1. Apple
For Apple (NASDAQ:AAPL) investors, next week is important. The maker of popular iPhones and other gadgets begins its annual development conference.
Third-party developers have been integral in fueling a services business that generated more than $46 billion for Apple in its last fiscal year, almost 18% of the iPhone maker's total revenue. According to Bloomberg, the company plans to announce a transition from Macs based on Intel (NASDAQ:INTC) chips to computers running Apple's own processors.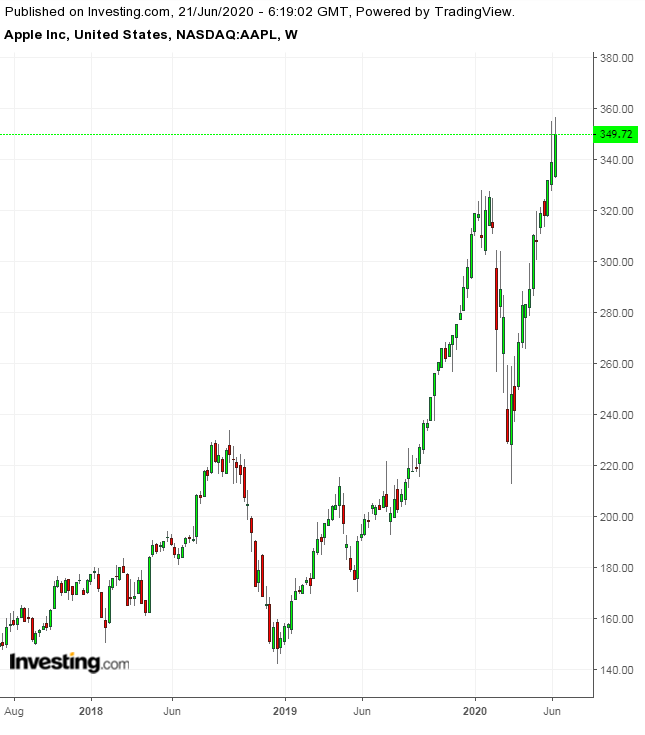 AAPL Weekly 2017-2020
"The shift will force developers to update their apps to support the hardware, which could be a lengthy process. Apple also wants the latest iPhone, Apple Watch and iPad software features to excite developers into building fresh apps for the devices," the report said.
Since touching the March 23 low, the rebound in the Apple shares has been remarkable. They've risen more than 60% since, closing on Friday at $349.72, slightly lower than the $356.56 record high the stock hit intraday on June 19.
2. Nike
Nike (NYSE:NKE) will release its fiscal 2020 fourth-quarter earnings on Thursday, June 25 after the market close. On average, analysts are expecting the sportswear giant to make $0.12 a share profit on sales of $7.45 billion.
The past quarter was the first full three-month period when hundreds of millions people in Europe and the U.S. lived under various forms of lockdown, forcing the Beaverton, Oregon-based company to close its stores and sacrifice sales.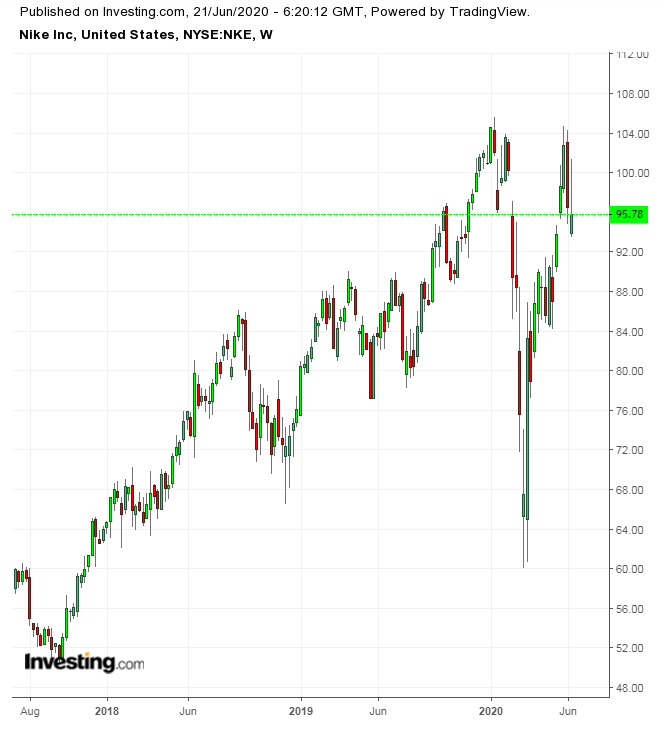 NKE Weekly 2017-2020
Chief Executive Officer John Donahoe told analysts in late March that the company's e-commerce operations remain "in growth mode," despite the demand shock presented by the coronavirus outbreak.
"At a time when people were confined to their homes, we moved swiftly to leverage our digital app ecosystem and Nike expert trainer network," he said, by accelerating app sign-ups and engagement for Nike Training Club workouts.
The hopes of strong online sales have helped Nike shares rebound from the March low of $60.58. They closed at $95.78 on Friday, up 58% since then.
3. PG&E
Uncertainty about the future of Pacific Gas & Electric (NYSE:PCG) is likely over after the utility, which services northern and central California, won final approval of its bankruptcy plan from the U.S. Bankruptcy Court for the Norther District of California. A judge issued an order Saturday confirming PG&E's Chapter 11 plan that will cover billions of dollars in damage claims stemming from catastrophic wildfires in 2017 and 2018, linked to the company's equipment.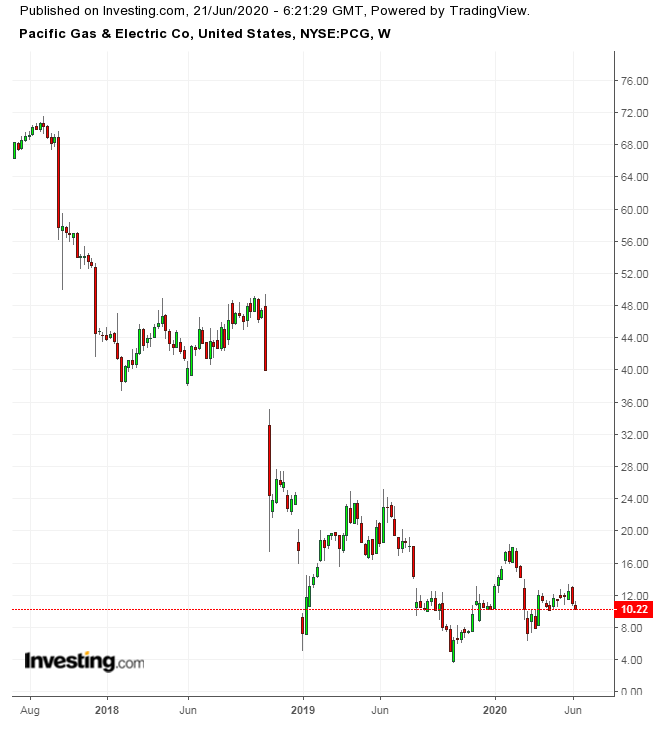 PCG Weekly 2017-2020
"PG&E is committed to emerging from Chapter 11 as a fundamentally improved and transformed utility that meets the highest safety, governance, and operational standards," Chief Executive Officer Bill Johnson said Saturday in a statement. The company said it expects to emerge from bankruptcy in July.
PG&E filed for bankruptcy in January 2019 after its faulty equipment was implicated in wildfires that killed more than 100 people and burned tens of thousands of homes across Northern California. It's the largest utility reorganization in U.S. history. After falling more than 5% on Friday, the stock closed at $10.22.