The market could lose some momentum in the coming week, as investors look for new reasons to buy stocks which have fared surprisingly well thus far during the global health crisis.
During the month of July, the S&P 500 posted a gain of 5.5%, while the NASDAQ surged 6.8%, powered by mega cap technology companies which beat expectations in their latest earnings reports, all released late last week.
With many of the major earnings releases out of the way, analysts now anticipate focus will turn to politics, as Congress struggles to find middle ground on a new fiscal spending package and decide the fate of the just-expired $600 a week unemployment supplement that ended on July 31.
With investor focus on these macro developments, here are three stocks to keep on your radar during the upcoming week:
1. Disney
The Walt Disney Company (NYSE:DIS) reports earnings for the fiscal 2020 third quarter after the closing bell on Tuesday, August 4. Analysts are expecting $12.44 billion in sales and $0.61 loss per share.
The House of Mouse is in the middle of a nasty downturn. Its core business, which thrives on shared group experiences, is suffering after the global spread of COVID-19 forced the closure of its theme parks, resorts, movie theaters and cruises worldwide.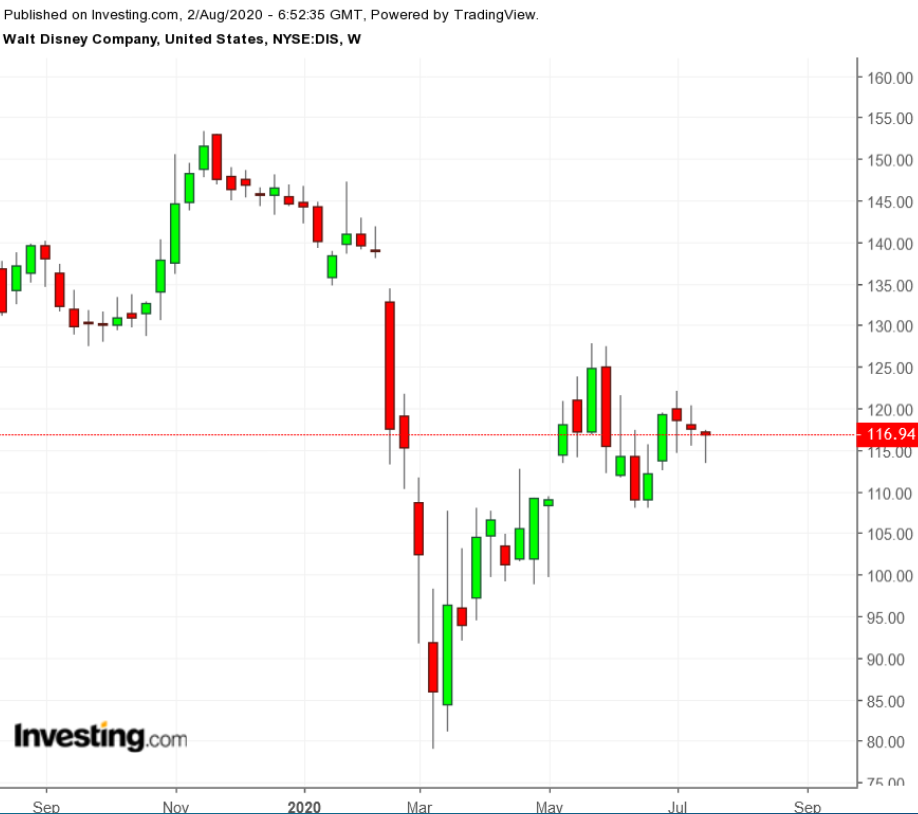 DIS Weekly TTM
Hurt by this unprecedented challenge, Disney reported a $1.4-billion shortfall in its operating income for the first quarter, including a $1-billion hit coming from shuttered theme parks alone, and the rest from other business units. One bright spot, however, in the upcoming earnings report could be subscriber numbers on its newly-launched streaming service, Disney+ which is benefiting from the stay-at-home environment.
Shares of the entertainment giant have fallen 19% this year, closing at $116.94 on Friday. The stock is gradually recovering from its March dip, fueled by hopes of a quick rebound for Disney's business once the pandemic is contained.
2. Uber Technologies
The world's largest ride-hailing company, Uber Technologies (NYSE:UBER), is scheduled to report Q2 earnings on Thursday, August 6 after the market close. According to analysts' consensus forecast, Uber will announce a loss of $0.8 a share on sales of $2.09 billion.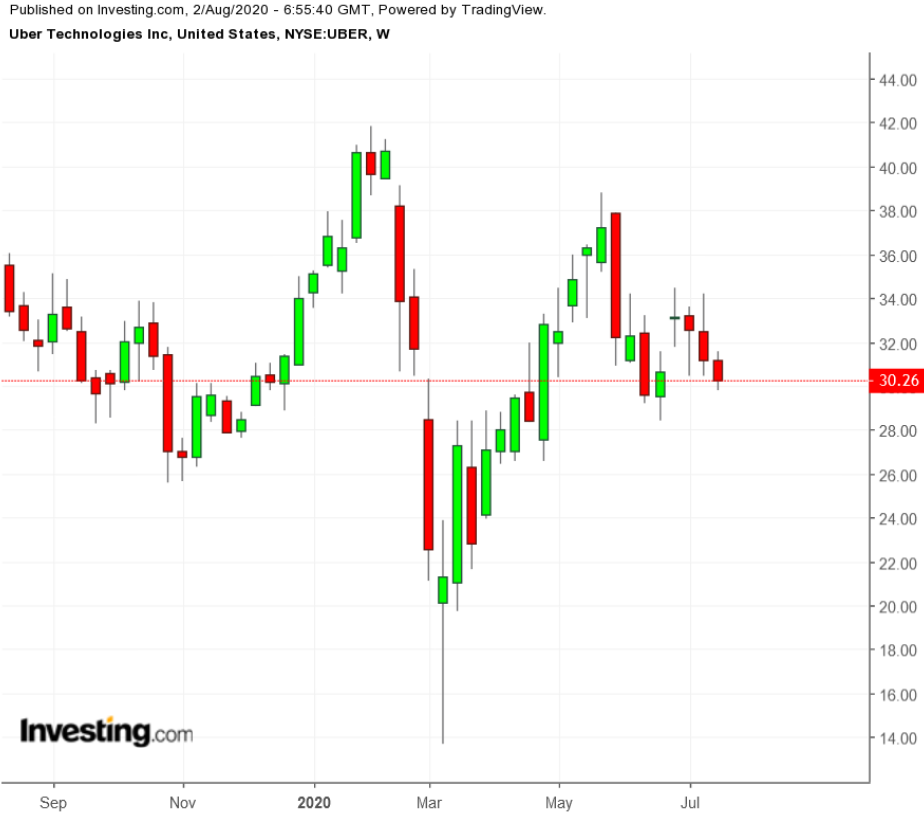 UBER Weekly TTM
Uber shares have more than doubled since their March lows, closing on Friday at $30.26, helped by the company's diversified business model and cost-cutting efforts.
In May, Uber announced a series of moves to trim costs including ending food delivery operations in more than a half-dozen countries. It also cut about a third of the workforce of Careem, its Middle East unit.
Even as this restructuring is gaining pace, Uber's diversification into the food delivery business is, ironically, thriving as more and more people are ordering online when restaurants are closed. Uber Eats' gross bookings surged 52% from last year's first quarter to $4.68 billion.
During this week's report, investors will be looking for signs indicating the worst might be over for this Francisco-based company and that customers are booking more rides as economies open up.
3. Microsoft
After President Donald Trump said he was considering steps to ban TikTok from the US, Microsoft's (NASDAQ:MSFT) efforts to acquire the US operations of video-sharing app owned by Chinese company ByteDance LTD will be in focus this coming week. After the president's announcement, negotiations were halted, as the companies try to gain clarity on what Washington's actual stance will be.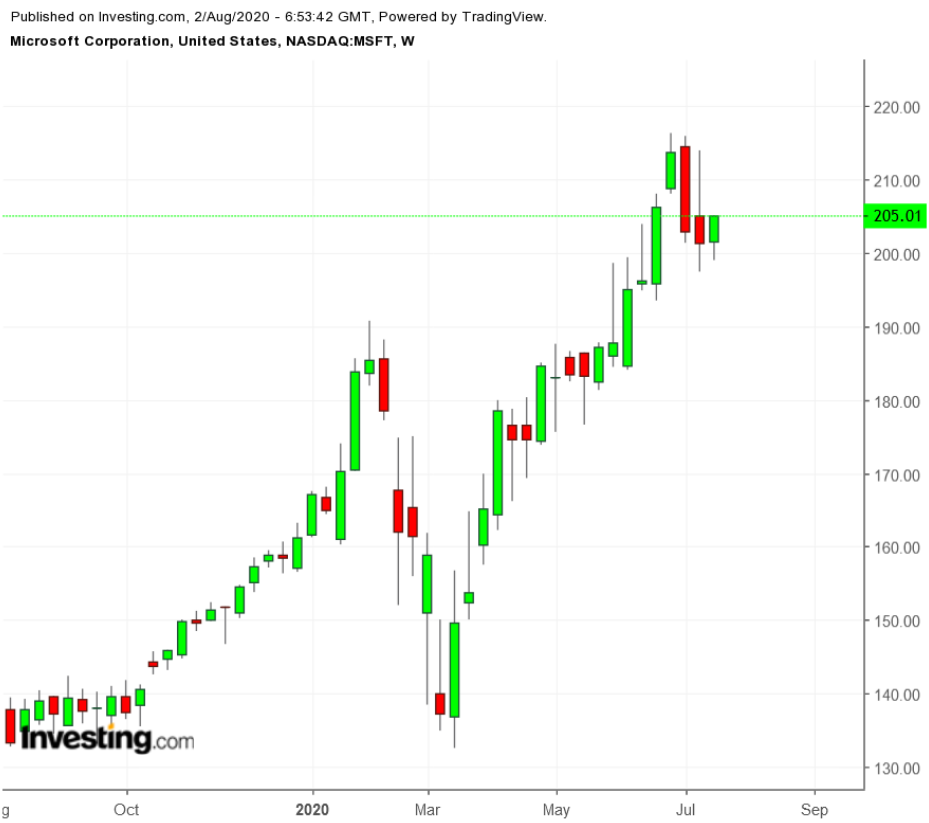 MSFT Weekly TTM
The situation will likely have an impact on shares of the Redmond, WA-based tech giant. The stock has gained 30% this year; it closed at $205.01 on Friday.
According to the Wall Street Journal, "for Microsoft Corp. Chief Executive Officer Satya Nadella [said], buying TikTok would mark the boldest in a string of big deals and could reshape a tech giant that has lately thrived by focusing on corporate customers."
ByteDance launched TikTok in 2017. The app has grown more popular during the coronavirus pandemic, with 2 billion downloads in April, according to Sensor Tower. ByteDance investors seeking to take over TikTok have valued it at $50 billion, Reuters reported earlier this week.