Stock Analysis
3 Stocks To Watch In The Coming Week: Tesla, Etsy, Peloton
After last week's equity sell-off, it's difficult to predict whether the move was a small blip within an ongoing powerful rally, or a significant trend reversal. With that uncertainty, there is consensus building that the next few weeks won't produce a straight line rally such as what we've been seeing since June.
Strategists at JPMorgan have said they expect the market to recover gradually, but there are still uncertainties looming around the upcoming presidential election on November 3, which will impact fundamentals over the next few months.
"The significant reduction in previously extreme long positions in NASDAQ by momentum traders should allow the equity market to recover over the coming weeks, as happened after the June 11th correction," according to the JPMorgan note, carried by Reuters.
"But a repeat of the strong gains seen during July and August is less likely over the next two months."
With that in the backdrop, here are three tech stocks which will be on our radar during the upcoming, holiday-shortened, trading week:
1. Tesla
Tesla (NASDAQ:TSLA) shares were under pressure in after-hours trading on Friday, hurt by the news, released after the close, that the S&P 500 had decided not to include the electric carmaker in the index–a highly anticipated move that played a role in the stock's 400% rally this year.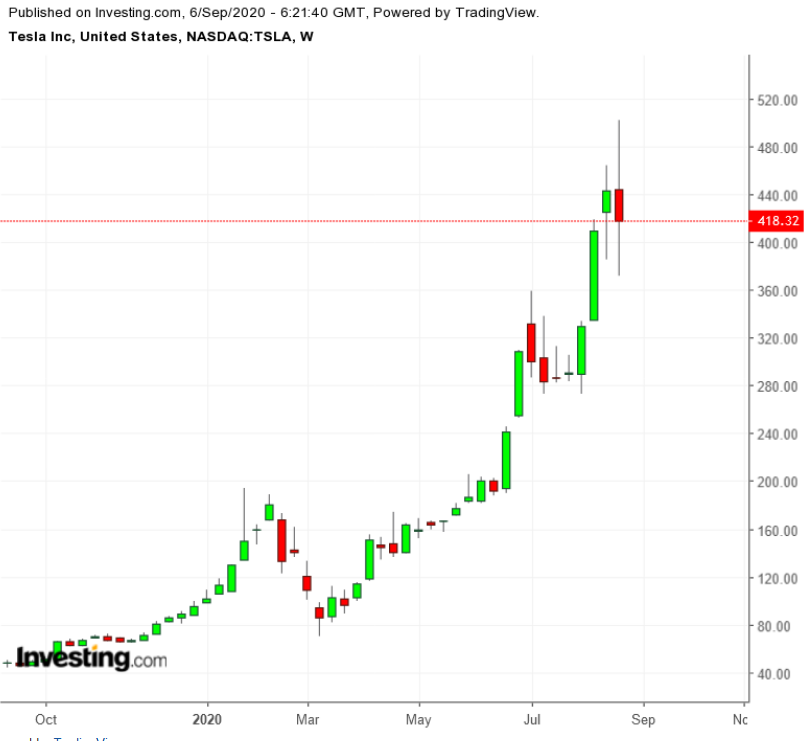 TSLA Weekly TTM
Founder and CEO Elon Musk's electric-vehicle manufacturer was widely expected to be added to the prestigious benchmark after it posted a fourth consecutive quarterly profit in July, one of the key performance criteria considered by S&P Dow Jones Indices, which oversees the gauge.
Instead, online retailer Etsy (NASDAQ:ETSY), semiconductor equipment manufacturer Teradyne (NASDAQ:TER) and medical technology firm Catalent (NYSE:CTLT) were added.
Tesla's stock tumbled as much as 8% in post market trading Friday evening, indicating that the carmaker will have another turbulent week ahead after suffering losses in the previous one. Shares closed at $418.32 on Friday.
2. Etsy
While Tesla shares are likely to tumble after the Labor Day holiday as well, Etsy (NASDAQ:ETSY), the online marketplace for handcrafted and vintage goods, could be in demand now that it's been included in the S&P 500.
Etsy's sales surged to $5 billion last year from just $1 million when the platform was launched in 2005. RBC Capital Markets says the company's "sustainably healthy growth and profitability levels," makes its stock worth owning.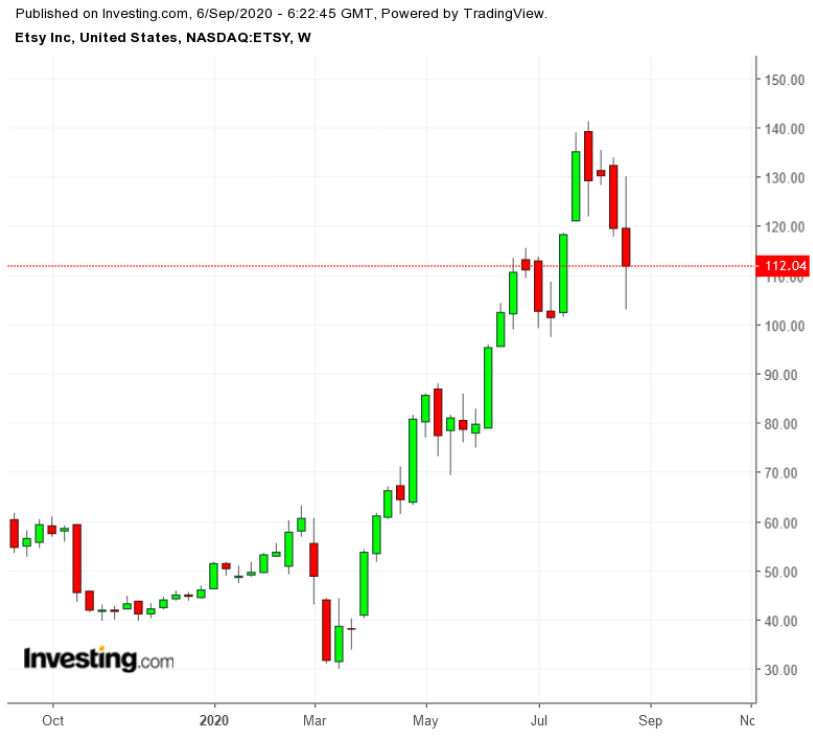 ETSY Weekly TTM
The company has gone through a massive evolution as it transitioned from a private business to a publicly traded behemoth with a nearly $15 billion market cap. There are about 65 million items for sale on Etsy at any given time. Shares of the Brooklyn, New York-based company's stock are up 153% this year. They closed on Friday at $112.04 after falling more than 3%.
3. Peloton
Peloton Interactive (NASDAQ:PTON) plans introduce a cheaper treadmill and a new high-end stationary bicycle, while slashing the price of its existing bike to boost demand. Bloomberg reported that the new treadmill, called Tread, will cost less than $3,000, compared with $4,295 for the current model.
Tread will also be smaller and have a cheaper belt design, similar to most other treadmills on the market compared with the current model's slat design, according to the report which cited people familiar with the matter.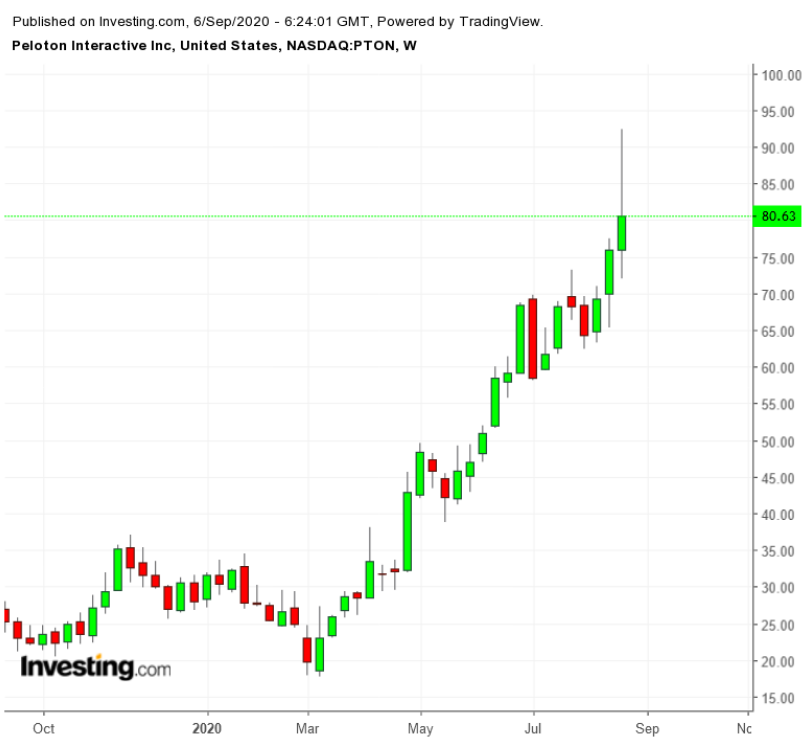 PTON Weekly TTM
Peloton stock has more than tripled this year as the company's exercise equipment benefited from the stay-at-home environment and gym closures due to the COVID-19 pandemic.
Its stock closed on Friday at $80.63, after falling more than 2%. Shares could reach $105 by December 2021, according to JPMorgan analyst Doug Anmuth, who raised his sales and earnings estimates last week.