Boeing (NYSE:BA) seems to be plunging into a bottomless abyss. Yesterday, the stock plummeted more than 18% on a mixture of bad news that confirmed the financial crisis for the world's largest aeronautics company is deepening after the grounding of its flagship 737 MAX plane last year.
Today shares are down another 12% and still falling after analysts at long-time proponent of the stock JP Morgan downgraded their standing 'overweight' rating on the stock to 'neutral.' They also their price target for the company by $160, to just $210.
The embattled Chicago-based firm is facing an array of headwinds right now. On Wednesday it told employees it was immediately suspending hiring as well as implementing other measures to preserve cash. These moves come as the fast spreading coronavirus drastically cuts air travel and damages airlines worldwide.
The plane manufacturer's stock just continues to tumble. As of this writing, the past year's decline is at 57% and counting. Shares are now at their lowest level in 30 months. Before the company's recent measures to preserve cash, Boeing was already reeling from the damage of two fatal crashes of its 737 MAX that claimed 346 lives.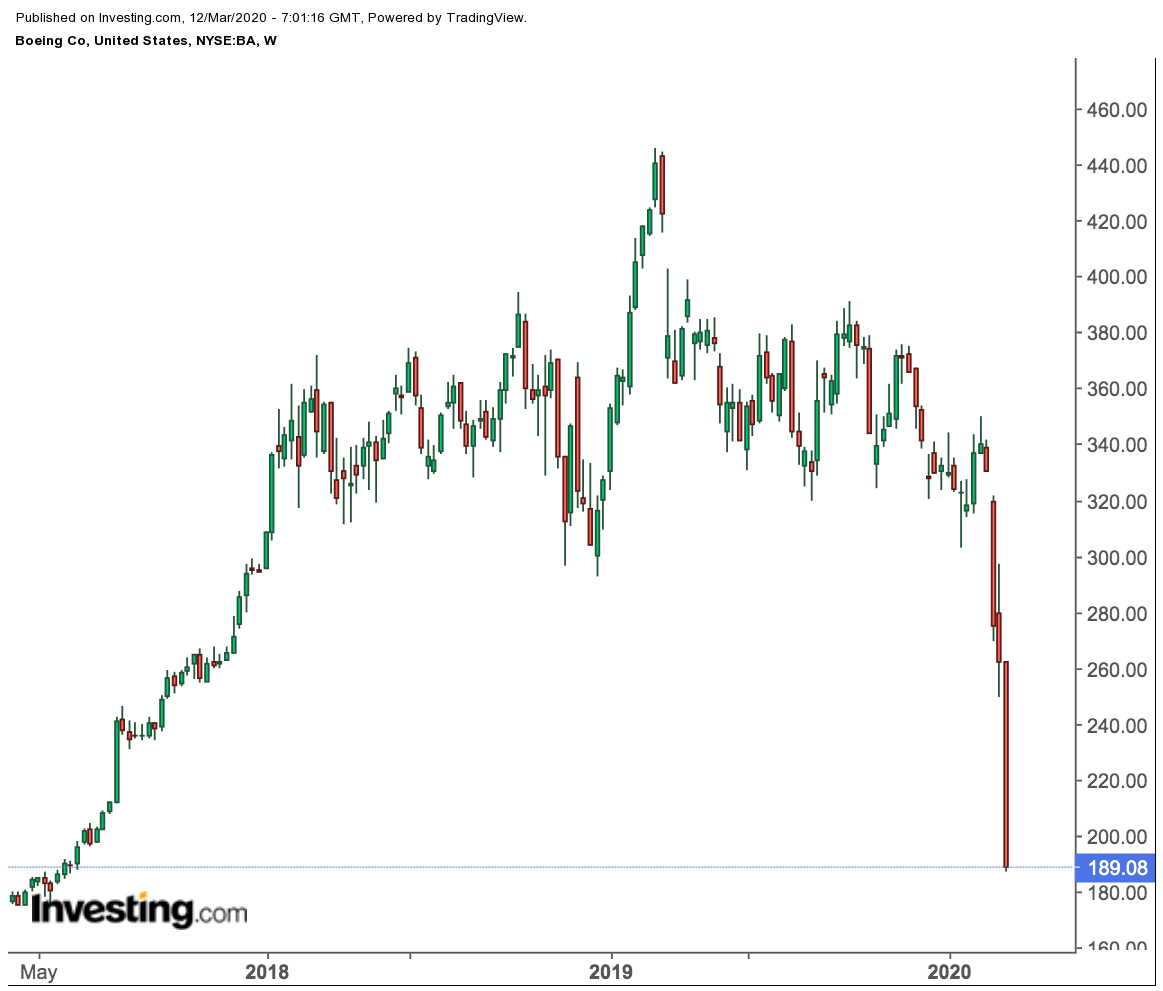 Boeing Weekly Price Chart
"On top of the work of safely returning the 737 MAX to service and the financial impact of the pause in MAX production, we're now facing a global economic disruption generated by the COVID-19 coronavirus," Boeing's CEO Dave Calhoun and CFO Greg Smith wrote in a note to employees, cited by media outlets.
All of this is playing out even as the latest data from the company showed that airlines might reduce the number of 737 MAX planes they have already ordered. Air Canada cut an order for the grounded aircraft by 11 jets, according to data released Wednesday on Boeing's website for the month of February.
Aircraft contracts typically allow buyers to scrap an order when delivery has been delayed by a year or more. That gives airlines leverage to renegotiate deals and seek concessions as the worldwide grounding of the MAX reaches its first anniversary on Friday.
In our December article, we noted that the worst for Boeing is yet to come as the Federal Aviation Industry will want to avoid being seen rushing the approval for the MAX as it tries to win back the trust of passengers and foreign regulators. The coronavirus setback further delays Boeing's journey back to business as usual.
With MAX jets piling up outside factories in Renton, Washington and regulatory scrutiny continuing, Boeing is going to have to suffer even further financially, making it tougher for analysts to call a bottom in its share price.
According to a report in the Wall Street Journal, Boeing plans to draw down the remainder of a $13.8 billion loan it secured last month to deal with the cash crunch it's facing.
Those steps are in response to various challenges, including a bill for what is estimated to be nearly $20 billion related to the freeze in MAX production and compensation to customers of an aircraft that has been grounded since last March.
After months of preparation, damage control and intense regulatory probes, the MAX plane is still grounded and there is no certainty when that global ban will be lifted. FAA chief Steve Dickson told lawmakers in Washington yesterday that his agency has no specific deadline for allowing MAX jets back in the air. But increasingly he is linking that decision to bolstering public confidence once the fleet is ungrounded.
As long as the MAX remains grounded, it will be tough to figure out the extent of the damage to the company's reputation and its financial outlook. But the stakes are extremely high for both Boeing and for the U.S. economy.
The 737, which first entered service in the late 1960s, is the aviation industry's best-selling model and Boeing's top earner. The re-engineered MAX version was so successful that it attracted more than 5,000 orders worth more than $600 billion, including planes that have already been delivered.
Bottom Line
The outbreak of coronavirus has further clouded the outlook for Boeing stock and it doesn't seem to have reached a bottom yet, especially in an environment that is placing the financial situation of all airlines under huge stress.
Boeing is certainly capable of solving the technical issues required to make the MAX a viable revenue generator again, but that process is also closely tied in with winning back public confidence. We don't think that stage has yet arrived and the risks to Boeing stock remain more to the downside.