Summary:
Bank of New York Mellon aims to reward investors by purchasing 11.5% of its own shares outstanding over the coming years.
Wide-moat BK has one of the fastest annual dividend growth rates from the S&P 500 index constituents.
The management's conservative approach to capital distribution provides investors with a long-term dividend margin of safety.
Introduction
The Bank of New York Mellon (NYSE:BK) provides financial services for institutions, corporations and individual investors. Its history can be traced back to 1784 and it is currently by far the largest custodian bank in the world, with over $35 trillion in under custody. In 2019, the company derived 35% of its revenue from foreign markets, and 80% of it was fee-based. This is particularly important in the current low-interest rates environment, as it provides financial flexibility when the interest revenue decreases. Given such low-interest rates, we could argue that the probability of an increase in the Fed Funds Rate in the future is likely higher than a decrease. This is beneficial for investors holding BNY Mellon through this period as it adds to the upside scenario.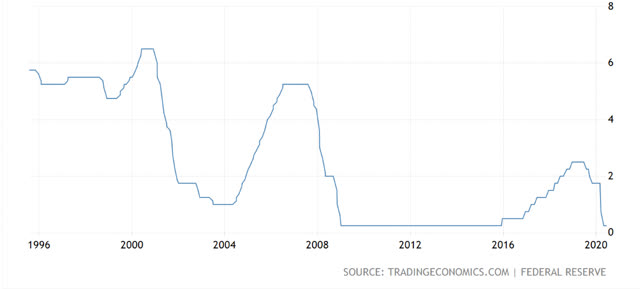 Source: tradingeconomics.com, Federal Reserve
3 Reasons Why It Makes A Great Dividend Investment
Firstly, the firm has been a great purchaser of its own shares through large dividend buyback programs. According to Morningstar and based on the annual reports from the past five years, the average buyback yield over this period was approximately 6% per year. If we add it to the five-year average trailing dividend yield, we get an estimated total yield of 8%. In a press release issued in June 27th, 2019, the firm announced its commitment to increase the buyback program by an additional $3.94 billion. At the current market capitalization of $ 34.14 billion, this accounts for the purchase of 11.54% of the total equity value of the company. Given the factor above, the management is committed to deliver a substantial amount of capital back to shareholders, which is not taxable as regular streams of dividends are.


Source: Morningstar, Inc.
In addition to the buyback program, another reason to purchase this security is its dividend growth rate. BNY Mellon was paying $ 0.48/share per year in 2011 and $ 1.18/share in 2019, which equals an annual compounded average growth rate of 11.9%, while the historical dividend CAGR for the constituents of the S&P 500 index is around 5% per year. Based on a dividend growth model using a current dividend of $ 1.24, a long-term growth rate of 7%, and a weighted average cost of capital/required rate of return of 9.5%, the equity value is around $ 49.6/share. At the current price of $ 38.5/share, the investment appears to be attractive.
Lastly, the conservative approach of the management about the payment of dividends is perfect for long-term investors seeking a reliable and regular source of income. The average five-year payout ratio is 25%, leaving a margin of safety that provides security in periods of economic uncertainty. The operations of the bank are very profitable, with an average net profit margin of 25% over the last five years. The return on equity has historically been around 10%, leaving enough room for retained earnings to grow at a decent rate of return.
Investment Rationale And Conclusions
Based on our previous dividend growth model estimate, the value of equity should be around $49.6/share. At the current price of $38.5 and at a forward P/E ratio of 10.7, this investment appears to be a buy. However, BNY Mellon will report Q2 financial results on July 15th, 2020 and that will represent a perfect test to assess how well the company has navigated the COVID-19 crisis coupled with the low-interest rates environment. I am personally long on BNY Mellon, however, I have bought the stock at an average price of $34/share, in order to benefit from an increased margin of safety. Overall, the fundamentals of the business are positive, and the different sources of revenue provide diversification within the investment and resilience to adverse market conditions. With operations in 35 countries and servicing 80% of the Fortune 500 companies, the firm benefits from a wide economic moat, that management has leveraged to return capital and provide value to shareholders.