1. S&P 500
I took another look at the S&P 500 from a fresh viewpoint, and what stands out pretty clearly is the descending triangle pattern. The pattern is bearish, and based on the height of the triangle, could be suggesting a decline of about 9% from where the index closed on Friday. It results in a drop to around 2,720, and to an essential level of support that dates back to April 21.
Is that likely to happen all this week, well let's hope not? Sharp and sudden moves are never good. The slower, the better.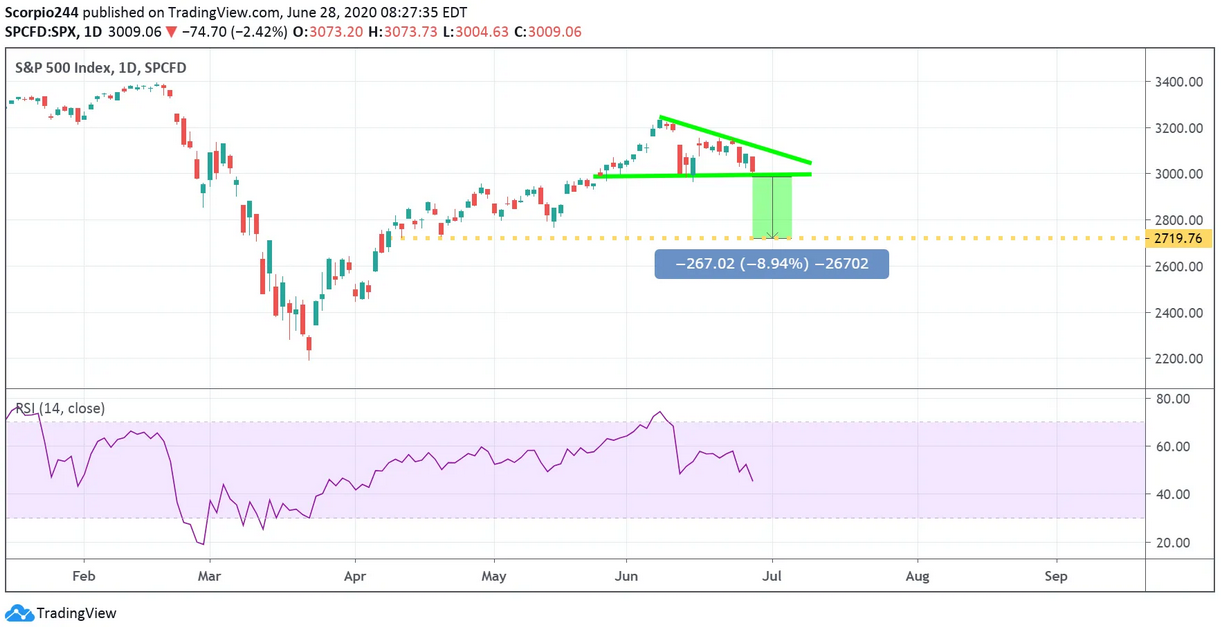 SPX – Daily Chart
A break in the S&P 500 futures on Sunday night into Monday below 2980 certainly gets us moving in that downward direction. Based on where the IG weekend Dow is trading, which is down 80 bps, we are likely to open right on that support level. No surprise, I guess.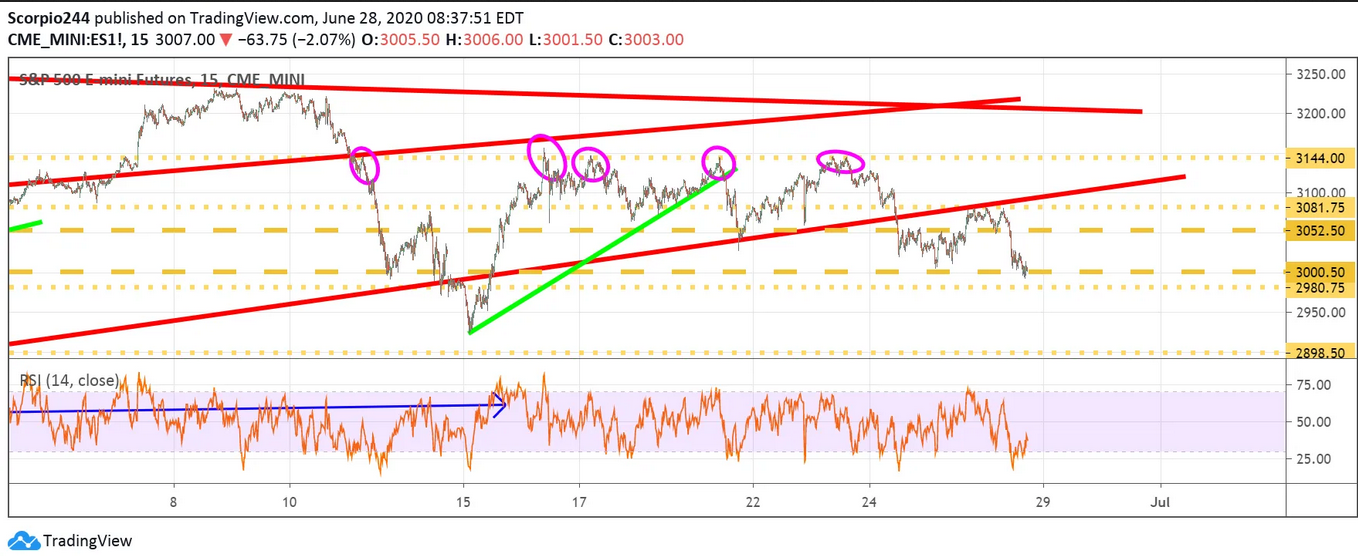 S&P Emini Futures Chart
2. Micron
Micron (NASDAQ:MU) reports on Monday after the close, they already preannounced the quarter, so there should be no real surprise there. The stock hasn't even reacted favorably. The only place the company could surprise is on how they see the rest of the year going. DRAM and NAND prices have been falling since the end of April, and that can't bode well for guidance going forward and is likely to pressure margins lower. It likely means a disappointing outlook and a stock that goes to $45.50.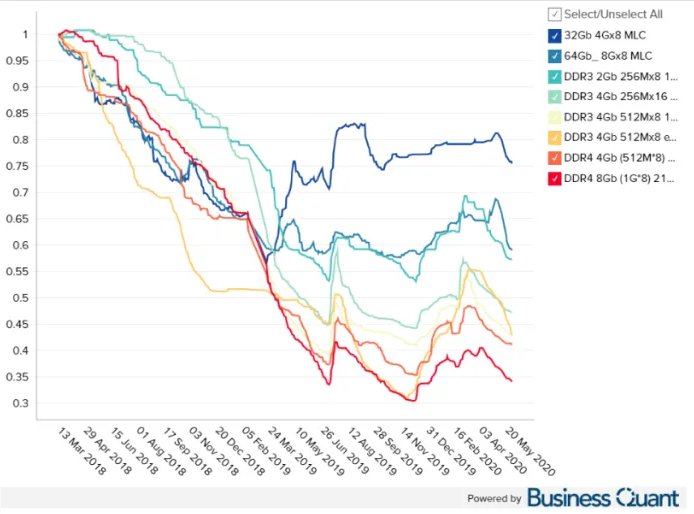 Micron Chart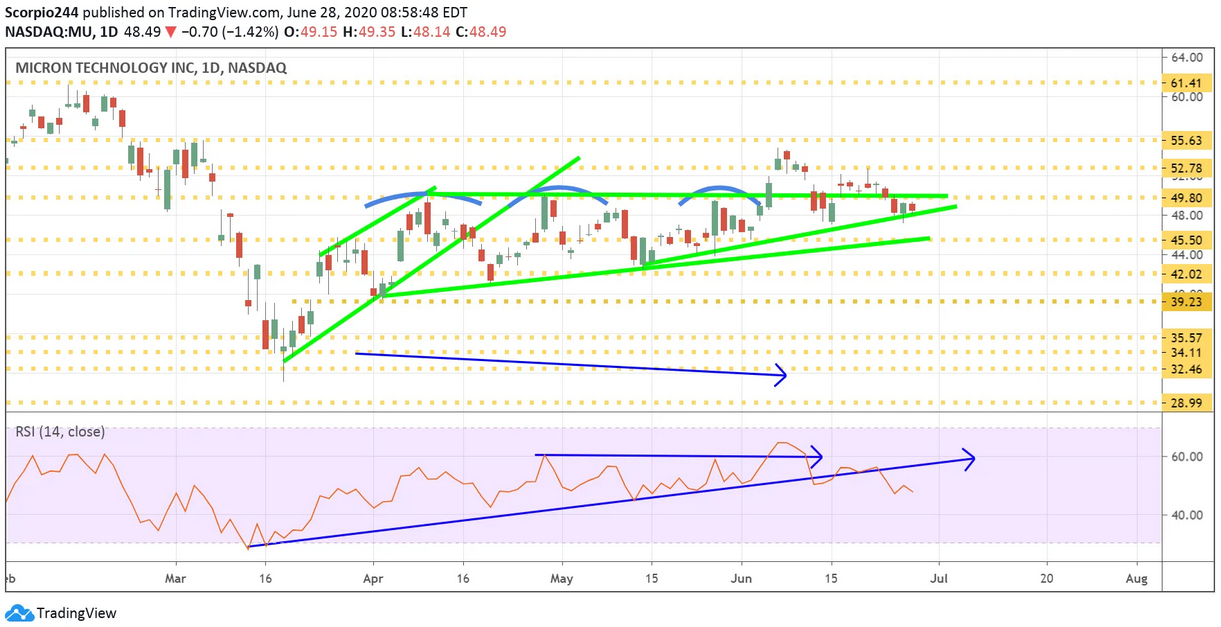 Micron Daily Chart
3. Western Digital
The pattern in Western Digital (NASDAQ:WDC) also confirms this bearish outlook, and Western Digital is likely heading lower, too, towards $35.50.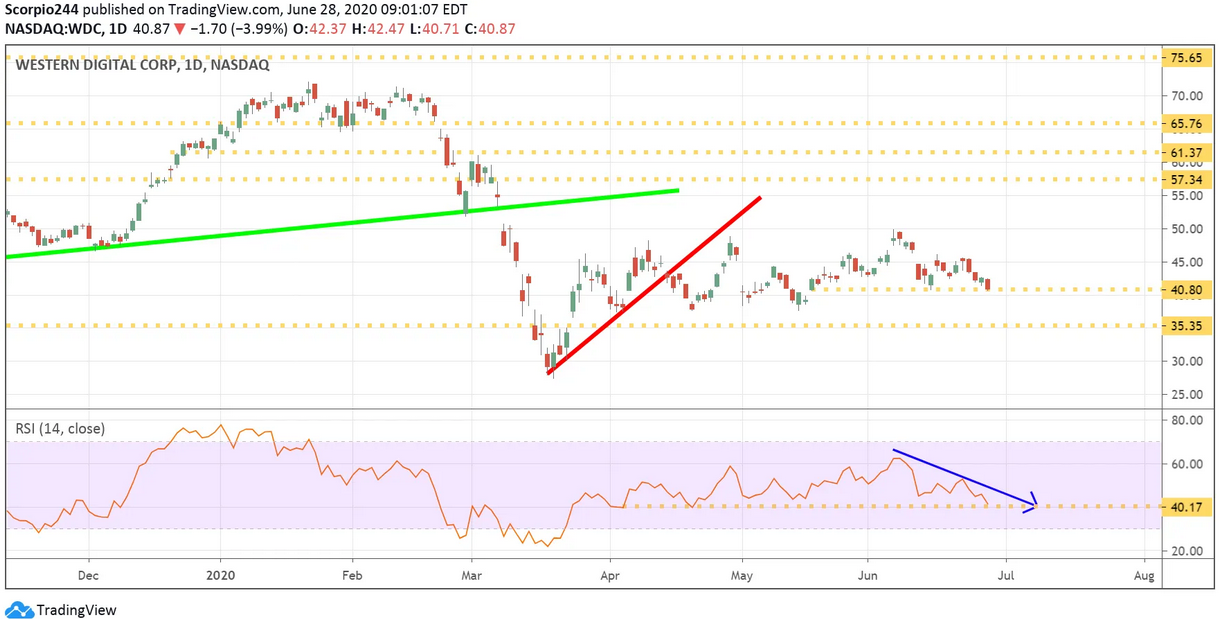 WDC Daily Chart
4. Facebook
Facebook (NASDAQ:FB) was smashed last week, and it is likely to continue this week. I have been seeing bearish betting in this stock for two weeks in a row. If the stock falls below $213, there is a good chance it declines to $203.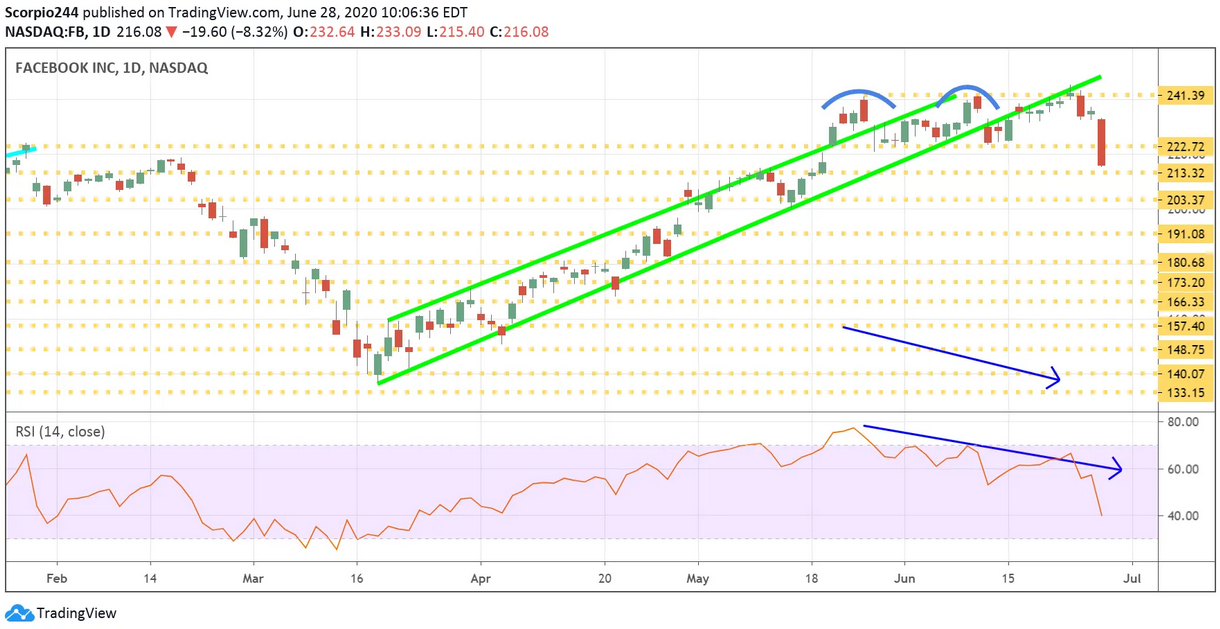 Facebook Inc Daily Chart
5. AT&T
I saw a lot of bearish betting June 24th on AT&T (NYSE:T), and that likely means the stocks declines have only begun. The shares are now resting on an uptrend and support at $28.90. A break of support sends shares lower to $27.35.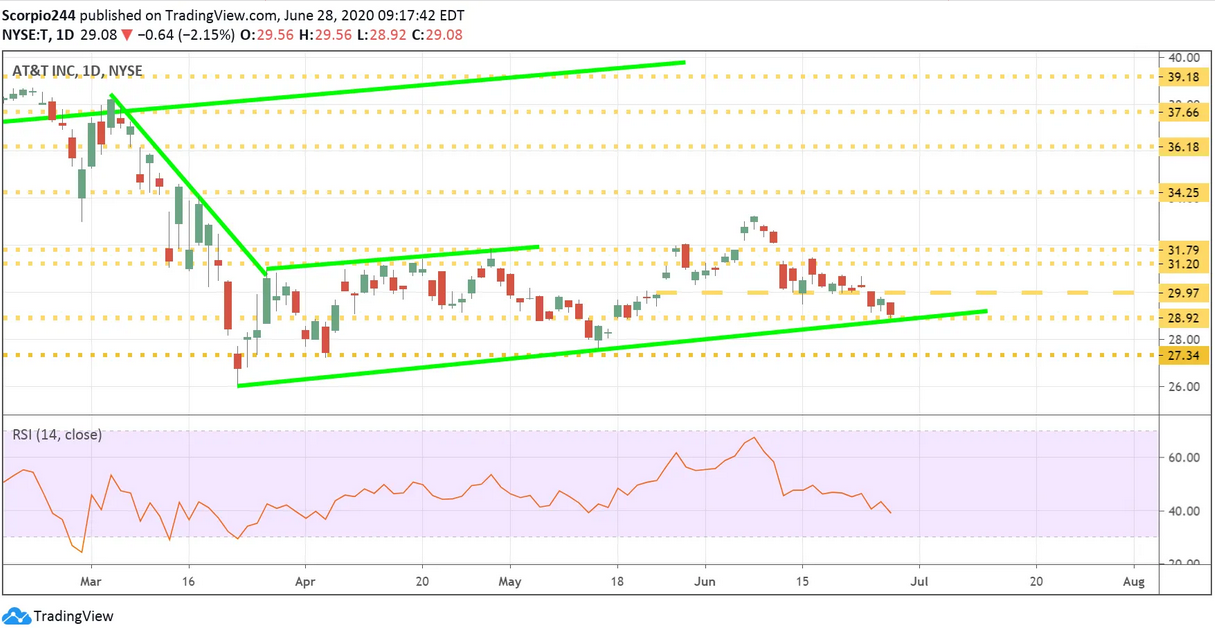 AT&T Daily Chart
6. Disney
There was a lot bearish betting for Disney, indicating shares fall sharply. There isn't a company that is likely getting hurt more than Disney from the pandemic. Nearly every aspect of there business is under attack, and there is no indication when this turns for the better. I think the stock continues lower with a break below $109, pushing shares to $99.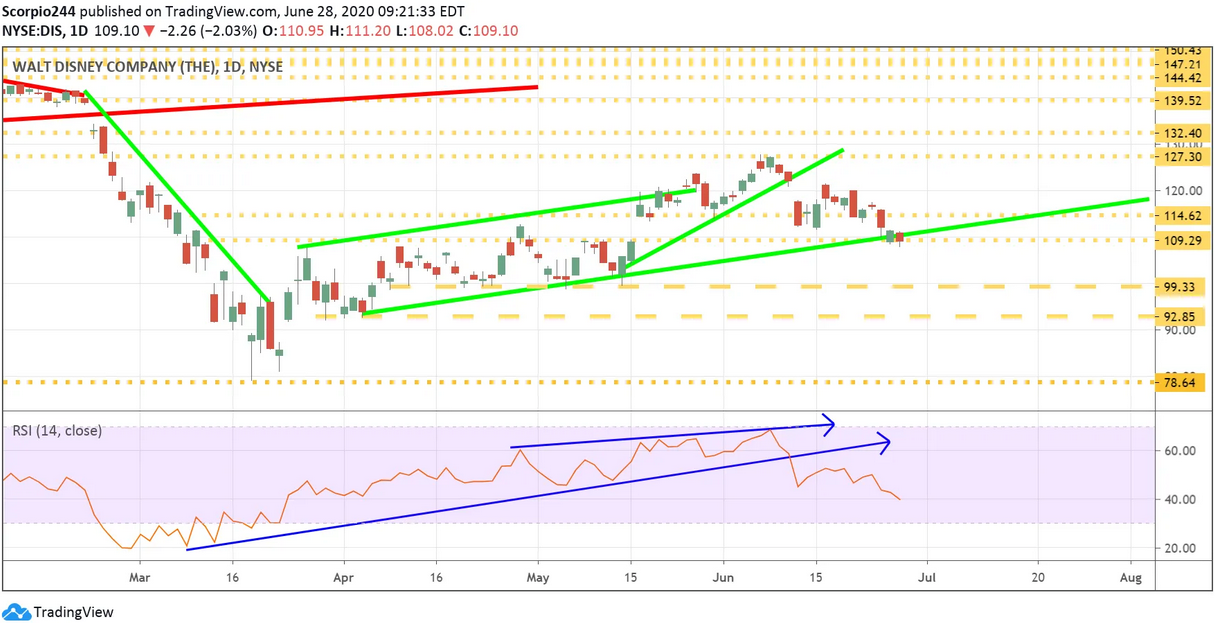 Disney Daily Chart
7. Zoom
Zoom has a large rising wedge pattern and bearish divergence in the RSI; it all indicates one thing, lower prices. The stock is likely to drop back to support around $220 and, more likely than not, $200.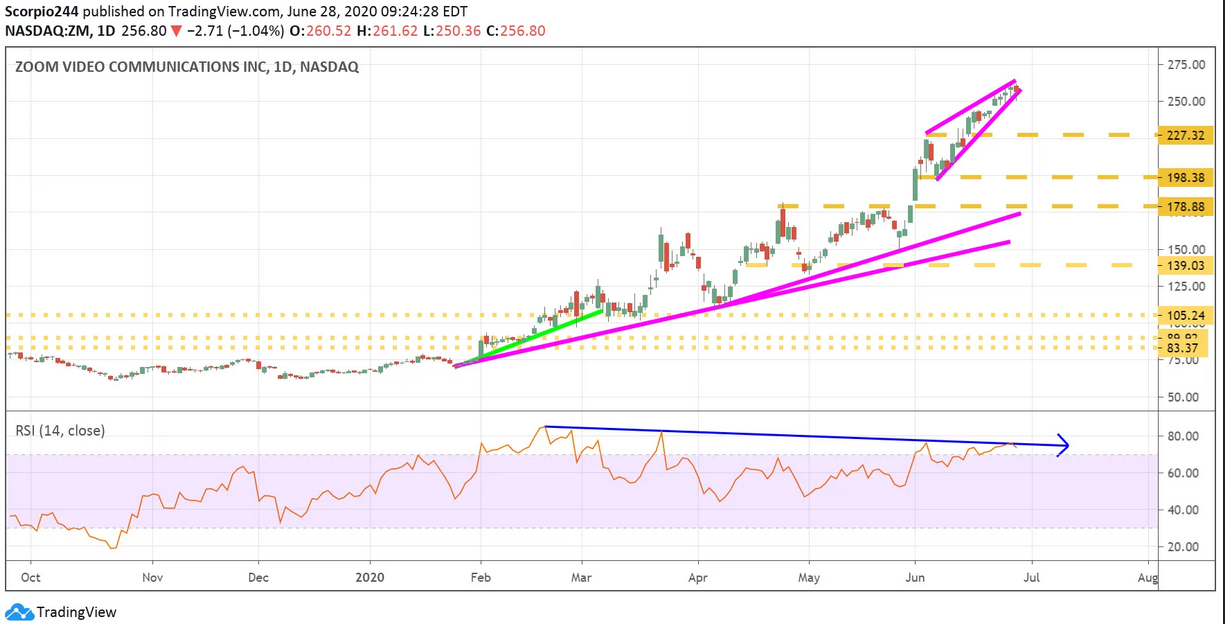 Zoom Inc Daily Chart
8. Amazon
Amazon.com (NASDAQ:AMZN) has the same thing going on, and that isn't good for the stock either. I also noted this past week that the stock is trading at a price to sales ratio that usually doesn't lead to good outcomes. Watch for $2100.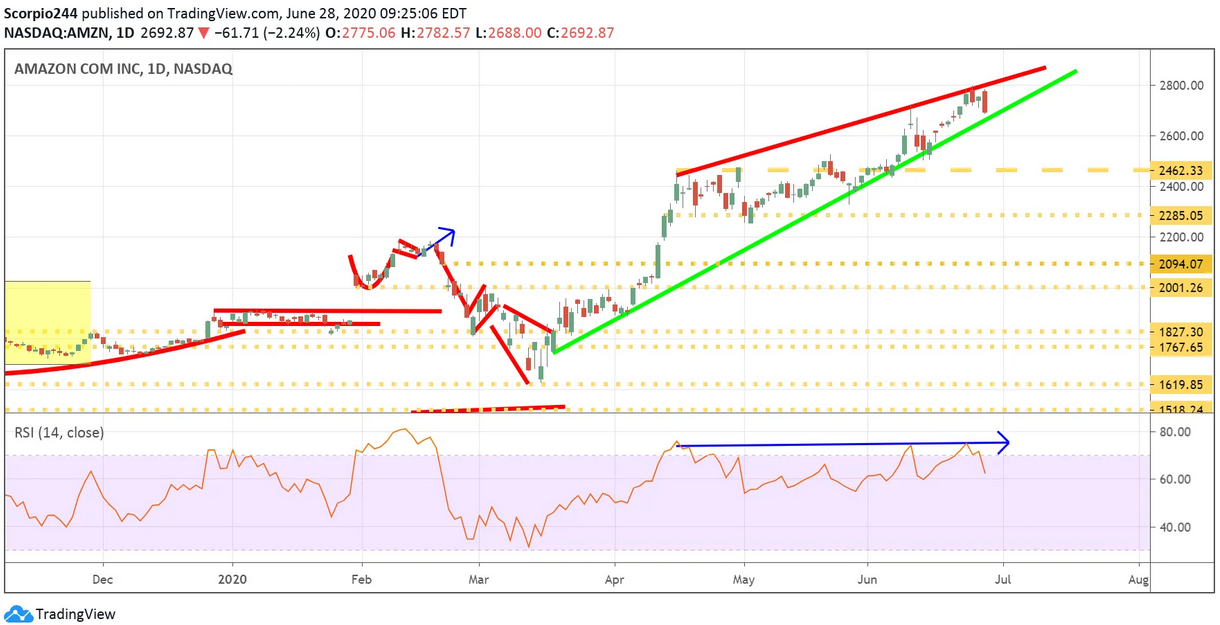 Amazon Inc Daily Chart
9. NASDAQ
If Amazon and Facebook crack this week, it isn't likely a good sign for the Nasdaq 100 either. The NASDAQ 100 hasn't been this overvalued relative to the S&P 500, since, well, you know…That isn't good.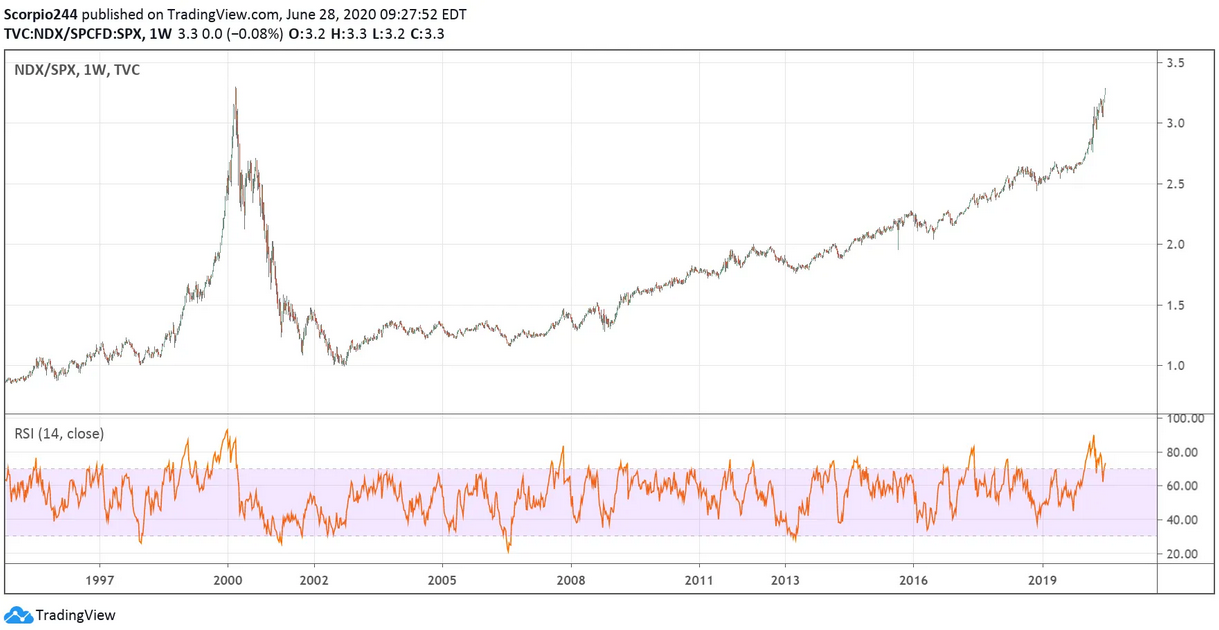 NDX / SPX Weekly Chart