Reports Q1 2020 results on Wednesday, April 29, before the market opens
Revenue Expectation: $17.26 billion
EPS Expectation: $-2.01
The past is no longer relevant for Boeing (NYSE:BA). When the Chicago-based aeronautics giant reports its first quarter results tomorrow, investors will only want to know one thing: does the world's largest planemaker have a plan for survival in a world where travel demand is shrinking drastically?
The unprecedented situation wrought by the COVID-19 pandemic has pushed the airline industry to near collapse. About 44% of planes are currently in storage, according to data provider Cirium, while travel demand has collapsed–down 90%. And with global coronavirus cases reported now surpassing 3 million, there's no clear timeline available for when planes will return to the skies and when airlines will start buying jets again.
Indeed, global airline sales are projected to plunge by $314 billion this year, according to an industry trade group, and travel may not recover fully until mid-decade. That blow has forced Boeing to preserve cash and possibly seek a government bailout soon.
But before that happens, Boeing has to come up with a restructuring plan which could include massive layoffs, abandoning some lines of businesses and drastically cutting back on its airplane production.
Late Friday, Boeing walked away from a $4.2 billion plan to combine its jetliner business with Brazil's Embraer SA (NYSE:ERJ). As well, Boeing is expected to cut Dreamliner output by about half since the effort burned a record amount of cash in the first quarter.
"The health crisis is unlike anything we have ever experienced," Chief Executive David Calhoun told shareholders yesterday. "It will be years before this returns to pre-pandemic levels." Consultancy firm Roland Berger estimates that demand for new aircraft could fall by almost half if the pandemic forces airlines to keep much of their fleets grounded for six months.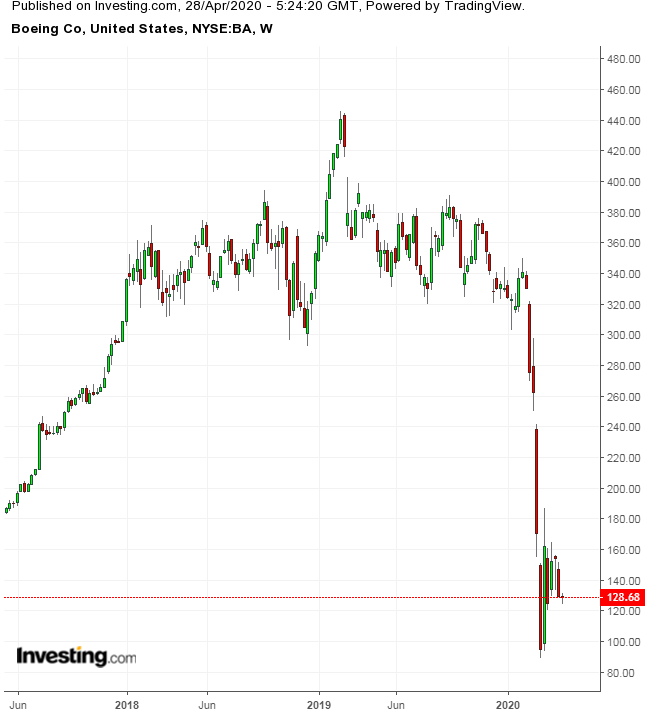 BA Weekly 2017-2020
Anticipating a long and painful recovery, investors have already dumped Boeing shares. Trading at $127.81 at the time of writing, Boeing stock has lost 60% of its value this year, making it the worst performer on the 30-component Dow Jones index.
The stock's plunge started last year when the company's flagship 737 MAX airplane was involved in two fatal crashes, forcing regulators worldwide to ground the company's top revenue earner. The planemake is still struggling to fix the faulty aircraft and get the regulatory approvals needed to resume operations.
With much of the airline industry facing an existential threat after the pandemic, conserving cash is key. When that happens, it will be a positive for Boeing since that could provide a floor to its sinking stock and open the door for a government bailout.
Bottom Line
With airline customers fighting to survive and unable to order or even utilize new aircraft, Boeing has little choice but to drastically cut its workforce and output. Investors are likely to see that plan taking shape in tomorrow's earnings release. That plan will also determine the manufacturer's health and its position in the aviation industry. Without a doubt, Boeing's standing will be much weaker than previously, leaving the company way more vulnerable than it had been before the pandemic.