One of the biggest deals in the cannabis sector underwent a radical watering-down last week, a move that reflects the degree of change the world of legal marijuana has witnessed in the past year.
Announced in April 2019, the original $3.4-billion deal struck between Ontario-based Canopy Growth (NYSE:CGC), (TSX:WEED) and New York-based Acreage Holdings (OTC:ACRGF) was an innovated strategic alliance that would have given the Canadian company, the world's biggest cannabis grower, a quick and seamless entry into the lucrative American market the moment US legislators legalized weed at federal level.
The plan was a huge deal, reflected in the big price tag. The amount was deemed to be the cost of acquiring Acreage in a two-pronged approach to access the US market. It was a deal that Acreage shareholders embraced.
But a lot has changed since then.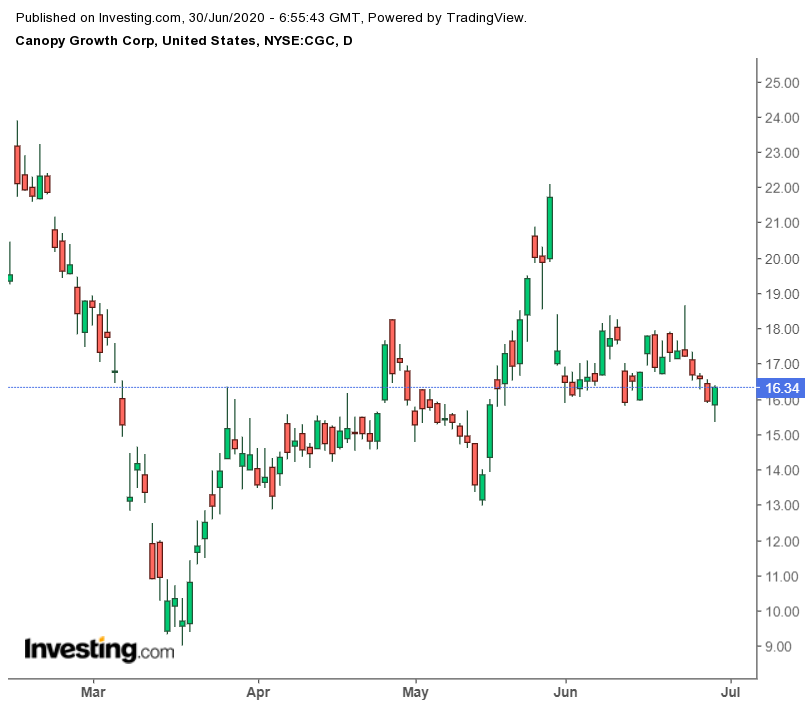 NYSE Canopy Growth Shares
Last week, Canopy reiterated it still aims to be a player in the US market, but at a much lower cost. Canopy restructured the deal last week so that it will now only pay $843 million for Acreage when the deal is triggered, once federal authorities fully legalize pot in the United States.
The new price was determined by a complex formula. It's a far cry from the terms of the original deal.
According to terms of the initial deal struck by Acreage and Canopy last year, Acreage shareholders would receive an initial $300-million payment, which worked out at about $2.55 per share. That part of the deal was renegotiated down to $37.5 million–or about $0.30 per share.
In the second part of the original deal, Canopy would acquire all the shares of Acreage, while Acreage shareholders would receive just over half a share of Canopy–0.5818 of a share, to be exact–for each share of Acreage they held. When all was said and done, Acreage shareholders would hold about 12% of Canopy.
The revised terms divide Acreage common shares into what it terms "fixed" and "floating" shares, Acreage shareholders will end up with just over a third of a share of Canopy–0.3048 of a share.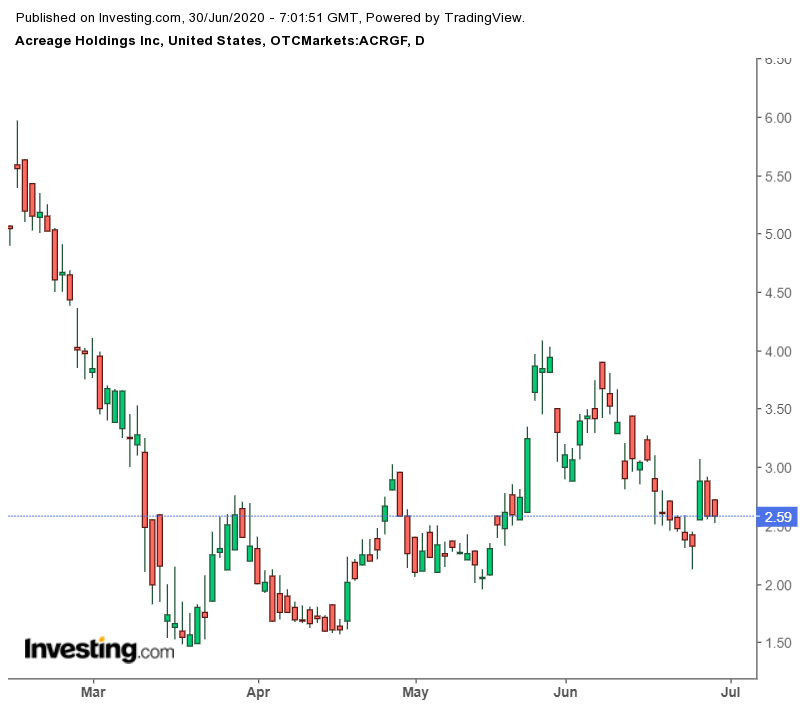 Acreage Holding OTC Shares
In addition, Canopy would provide a $100-million loan to Acreage that will support its US-based hemp operations.
Under the new terms, Acreage CEO Kevin Murphy announced his resignation, but will stay on as chairman of the board of directors.
The market reacted quickly to the news. Last Friday, the day after the new deal was revealed, both companies' stock recorded a loss. Canopy shares dropped almost 4%, while Acreage lost about 10%.
Canopy gained 2.45% on Monday to close at $16.34, but is still trading around six-week lows. In Toronto, the stock closed up 2.52% yesterday to close at C$22.365 ($16.34).
Acreage Holding stock held steady Monday, closing at $2.59 in New York, while losing just over 1% in Toronto to close at C$2.56 ($1.87).