Apple stock surged to a new record high on Tuesday, both intraday and at the close, after recovering from its coronavirus-induced slump in March. Plus, it's clear that investors believe Apple (NASDAQ:AAPL) has much more ammunition on tap to power its shares even higher.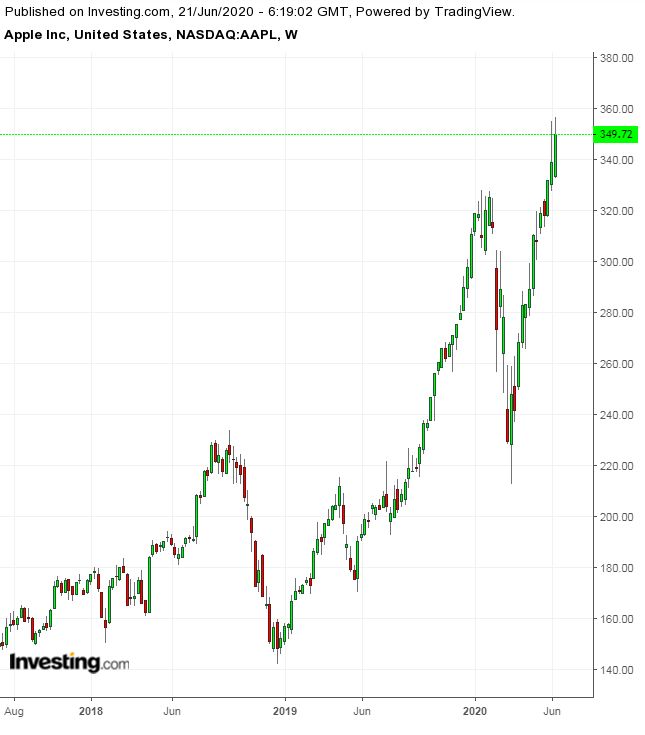 AAPL Weekly 2017-2020
The current rally has been so strong during the past three months that the iPhone maker's stock is now trading 24% higher for the year, defying expectations that an economy in recession will turn customers away from Apple's expensive gadgets. Shares closed yesterday at $366.53, up 2.13% for the day.
What's fueling the recent momentum are the positive aftereffects of Apple's virtual conference for software makers which took place earlier this week. The event showed that the company still has a lot to offer to keep its growth going. During the event, Apple introduced an array of software additions to its family of gadgets, including the most drastic changes to the iPhone home screen since the product's release in 2007.
Users will be able to add widgets that sit between the typical grid of apps, which can be set to varying sizes and present information, such as the weather or a calendar, which will update throughout the day. The Apple Watch will get sleep tracking and hand-washing detection tools.
Among the changes, the most exciting was Apple's decision to sell Mac computers using processors designed in-house, replacing Intel (NASDAQ:INTC) chips. The first Macs with Apple's own chips will be available by the end of the year.
For users, this means future Mac units will be a lot more like the iPhone or iPad. Its battery life should be longer and the performance better. In addition, the new Mac iteration will have the ability to run iPhone and iPad apps natively.
These announcements triggered upgrades from Wall Street analysts who follow the stock. The consensus: Apple's shares have more room to run even after the stock's remarkable rebound this year.
UBS increased its 12- month price target to $400 from $325, representing a near 12% upside from here. In a note on Tuesday, UBS analyst Timothy Arcuri said:
"Besides improvements to AirPods, most of the announcements were software-related innovations and aimed at using integration to drive even more stickiness of the ecosystem."
Bank of America also reiterated its buy rating after the upgrades, with the 12-month price target of $390.
"Perhaps the biggest takeaway from today's event was the reassurance that Apple is still driving innovation and new ways to use technology hardware and software," a note from the bank said.
"Whether that is through AirPods incorporating surround sound and spatial audio, the watch supporting more health workouts, tracking user dance movements and tracking sleep."
Still, it would be wise for investors not to ignore potential risks that could hinder Apple's near-term growth, especially when the global economy is still in a recession and the COVID-19 pandemic continues to rage.
Keep an eye on whether users are hanging on to their phones longer, or remain keen to upgrade even when the economic environment is harsh. While announcing its Q1 earnings in April, Apple didn't provide guidance, the first time in more than a decade this has occurred, due to the ongoing disruptions from the pandemic.
Bottom Line
Through its latest upgrades, Apple showed that its innovation machine is working full-time despite coronavirus complications. The Cupertino, California-based company simply continues generating future growth opportunities and more upside for shareholders.