The shares of Advanced Micro Devices (NASDAQ:AMD) are on fire. After rallying strongly in a broad-based market recovery since March, they have gained another 65% in just the past 30 days. That upswing is making investors wonder: How much higher can they go?
Before discussing the extent of this tech darling's upward trajectory, it's important to understand what's driving the move. The answer can be found in the California-based chipmaker's recent earnings report, which showed strong continued demand for its products despite the devastating impact of the COVID-19 pandemic on the global economy.
AMD reported second-quarter net income of $157 million, or $0.13 a share, compared with $35 million, or $0.03, during the same period last year. Revenue rose 26% to $1.93 billion. Profit, excluding certain items, was $0.18–more than analysts' estimates of $0.16 on sales of $1.86 billion.
But investors went all-in on AMD shares after seeing the company's very bullish forecast for the rest of the year, showing that it is quickly becoming a powerful player in the semiconductor industry, where competition is cutthroat.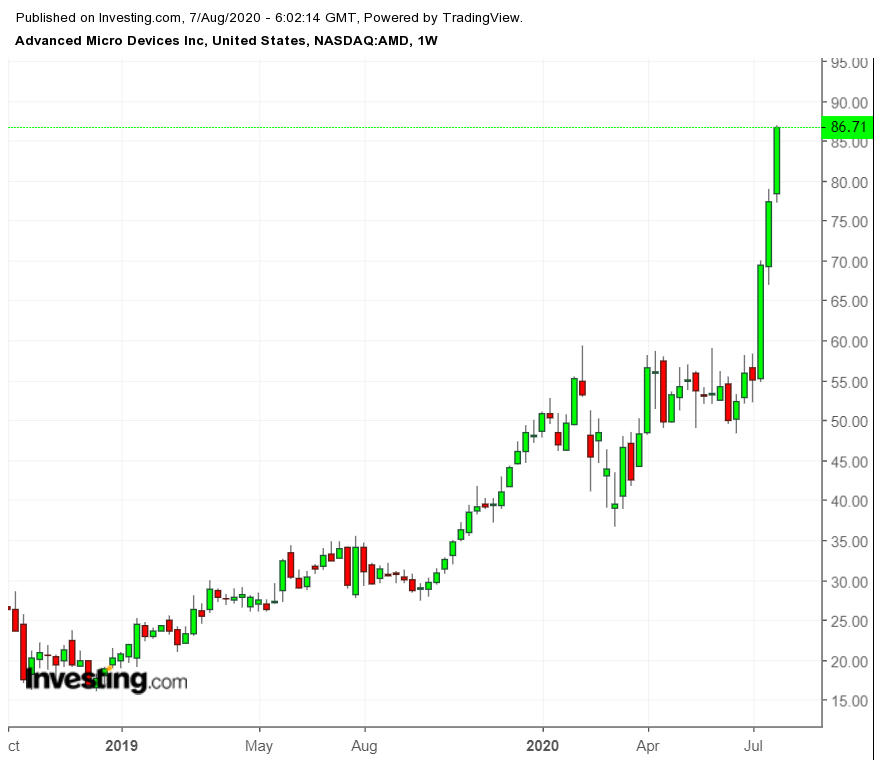 AMD Weekly Chart
Helped by more demand for server chips, the company expects third-quarter revenue to reach about $2.55 billion, topping analysts' average prediction for $2.3 billion. AMD also its raised full-year forecasts, expecting revenue to increase about 32%, driven by strength in PC, gaming and data center products.
Intel Loss Is AMD's Gain
Also fuelling the momentum is the expectation that AMD is in a good position to gain on the weakness shown by one of its main competitors–Intel (NASDAQ:INTC).
After decades of lagging behind Intel, the world's largest chipmaker, AMD has been catching up in recent years, helped by advances at Taiwan Semiconductor Manufacturing (NYSE:TSM), which makes chips on its behalf.
That outsourcing strategy helped AMD at a time when Intel suffered a series of manufacturing setbacks, repeatedly falling behind in introducing new chips. In a big surprise announcement last month, Intel said it was considering scrapping a decades-old strategy of making chips in-house.
AMD Chief Executive Officer Lisa Su told analysts after the earnings report was released last month that her company is on track to gain market share as new products are more widely adopted.
Microsoft's (NASDAQ:MSFT) Xbox Series X and Sony's (T:6758) PlayStation 5–each will contain a powerful AMD processor. Demand for such products is likely to expand as the holiday season approaches, and the COVID-19 pandemic continues to force people to stay at home.
$100 Price Target
This turnaround and Intel's flops are making analysts' quite bullish on AMD prospects. Bank of America's Vivek Arya told clients in a recent note that AMD could grab a greater market share in the PC and server space as Intel struggles with next-generation processing technology.
Arya raised AMD's price target to $100 per share, which implies a 17% upside from the stock's current level. AMD stock closed yesterday at $86.71, after surging about 80% this year.
AMD's $100-per-share price target is based on a 41 times 2023 price-to-earnings ratio. That may seem lofty, but the analyst thinks it is justified given the pace of earnings growth expected in the next three years as well as the company's "ability to take share in large markets," according to Arya's note published by CNBC.com.
Jefferies analyst Mark Lipacis also sees further upside potential for AMD shares, encouraged by Intel's recent announcement that its latest chips were six to 12 months behind schedule.
Lipacis wrote in a recent note as he raised the stock's price target to $95 from $86:
"Given our updated view that INTC issues are learning curve related making it hard to close the gap with TSMC, we expect to see AMD's share gains accelerate."
His bull case for the stock anticipates that the company will capture 30% market share from Intel over the next two to three years, giving it 50% of the overall market in four to five years.
Bottom Line
Everything seems to be going right for AMD, especially as its main rival is faltering. But investors, who are thinking about entering this trade now, should remember that the stock is priced for perfection and the company can't afford for anything to go wrong.