Stock Analysis
Insulet Partners With Dexcom For Automated Insulin Delivery
Insulet Corporation (NASDAQ:PODD) recently signed a global commercialization deal with Dexcom (NASDAQ:DXCM) to offer an enhanced system of automated insulin delivery. As a result of this partnership, current and future Dexcom continuous glucose monitoring systems (CGM) will be combined with Insulet's tubeless insulin delivery Pod into the Omnipod Horizon System for automated insulin delivery.
This agreement is a major step forward in Insulet's commitment toward bolstering its automated insulin delivery system and providing better clinical outcomes for diabetes patients.
More About the Deal
Per the terms of this non-exclusive deal, Insulet's Omnipod Horizon Automated Insulin Delivery System will be utilizing sensor values from the Dexcom G6 and next generation G7 CGM systems to forecast future glucose levels and accordingly adjust the insulin dose necessary to curb the occurrence of blood glucose highs and lows.
Once this agreement comes into effect, the Omnipod Horizon System will be fusing industry-leading technologies into one integrated system comprising of the Omnipod tubeless insulin delivery Pod, the Dexcom CGM, and for the first time, an insulin pump that will be regulated as per the convenience of the user's personal smartphone.
With Dexcom CGM integration, the Omnipod Horizon System will not need fingersticks for the reading of blood glucose level or CGM calibration. Moreover, the system will also offer the same enhanced lifestyle benefits of the current Omnipod System, devoid of any tubes, and up to three days of constant insulin delivery that would not be disrupted during day-to-day activities like exercising.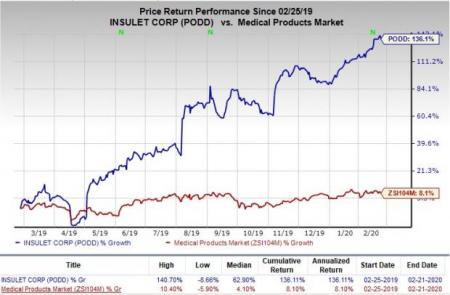 For investors' notice, this deal comes on the heels of Dexcom and Insulet's previously announced integration efforts and should pave the way for the commercial launch of the Omnipod Horizon System in the latter half of 2020.
Market Prospects
Per MarketWatch, the global automated insulin delivery system market is anticipated to grow at a CAGR of 8.0% to reach $1.68 billion by 2025. Hence, this integration agreement between Insulet and Dexcom comes at an ideal time.
Recent Development
In February 2020, Insulet partnered with Abbott (NYSE:ABT) to integrate the latter's pioneering glucose sensing technology with its own next-generation tubeless system, the Omnipod Horizon Automated Insulin Delivery System. This integration deal should offer personalized, accurate and cost-effective automated insulin delivery to diabetes patients.
Price Performance
In the past year, the stock has outperformed its industry. Shares of the company have rallied 136.1%, compared with the industry's 8.1% growth.
Zacks Rank and Another Stock to Consider
Insulet currently carries a Zacks Rank #2 (Buy).
Another top-ranked stock from the broader medical space is Hill-Rom (NYSE:HRC) , also carrying a Zacks Rank #2. You can see the complete list of today's Zacks #1 Rank (Strong Buy) stocks here.
Hill-Rom has a projected long-term earnings growth rate of 11.1%.
Just Released: Zacks' 7 Best Stocks for Today
Experts extracted 7 stocks from the list of 220 Zacks Rank #1 Strong Buys that has beaten the market more than 2X over with a stunning average gain of +24.7% per year.
These 7 were selected because of their superior potential for immediate breakout.
See these time-sensitive tickers now >>
DexCom, Inc. (DXCM): Free Stock Analysis Report
Abbott Laboratories (ABT): Free Stock Analysis Report
Hill-Rom Holdings, Inc. (HRC): Free Stock Analysis Report
Insulet Corporation (PODD): Free Stock Analysis Report