It was a terrific April for stocks. Nonetheless, it left investors with a lot of significant questions.
The most important: do you actually believe what the markets are saying? Which is: a recovery will erupt like fireworks once everyone goes back to work.
Or, instead, do you believe the economy's overriding signal? That the coronavirus pandemic exposed shaky economic foundations across the globe that will take time to repair. And that would mean stocks have gotten ahead of themselves.
Robust Gains Flip To Losses
The short answer: it's logical to expect a frustratingly slow and messy recovery–and hope you're proven overly pessimistic.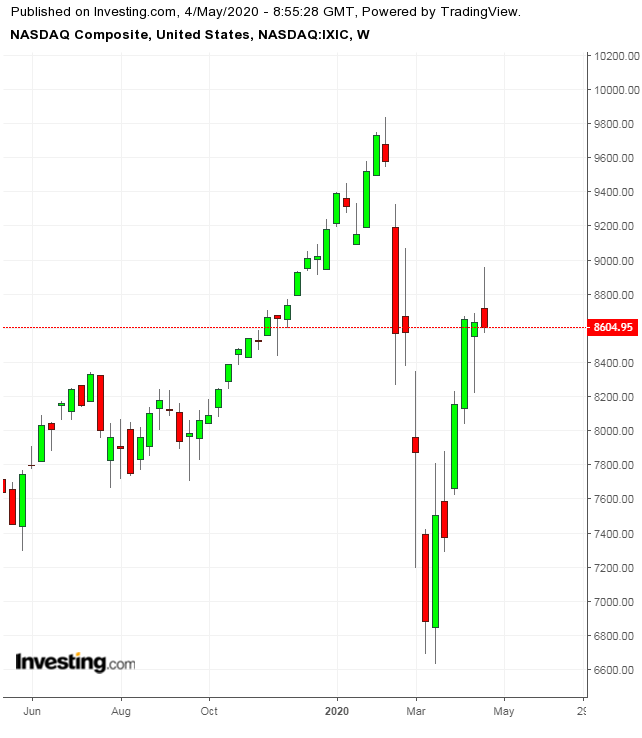 COMPQ Weekly
The S&P 500, up 12.68% in April and the Dow Jones Industrials, up 11.08%, had their best one-month gains since January 1987. The NASDAQ Composite's 15.45% increase was its strongest since June 2000. The NASDAQ 100 jumped 15.19%, its best showing since October 2002.
From their lows on March 23, the S&P 500 jumped nearly 33% by April 30, with the Dow bounding higher by 33.7%, the NASDAQ rebounded 34% and the NASDAQ 100 surged 33%.
That said, the S&P 500, Dow and NASDAQ still ended April showing losses for the year, though the NASDAQ 100 was actually ahead 3% on the year when April closed. It lost all of that on Friday, May's first trading day.
Each of these benchmarks are well off their all-time highs set in February. Moreover, the S&P 500, Dow and NASDAQ have fallen in nine of 17 weeks this year.
Sectors, Stocks That Were Hot…And Not
Energy stocks led in April, but did so only after oil prices bounded back after collapsing from oversupply and battles over who controls global energy prices. The May contract for West Texas Intermediate actually went negative for two days, something that logically should not happen. WTI for June delivery fell under $20 on Friday and has continued sliding in futures trading on Monday.
The Energy Select Sector SPDR ETF (NYSE:XLE) was up 31% in April. Sounds great, except that it fell nearly 52% in the first quarter and is off 40% for the year.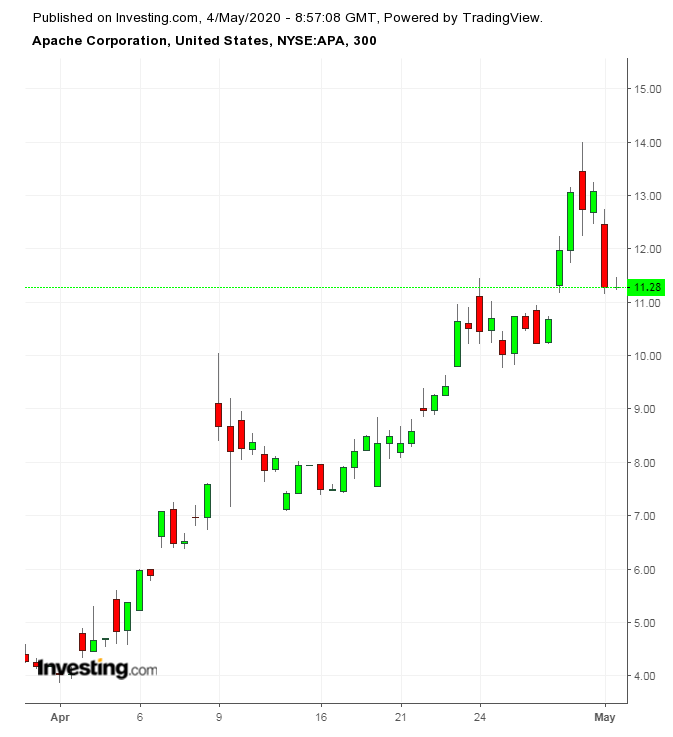 APA 300 Minute Chart
Apache (NYSE:APA), one of the biggest oil-and-gas producers, was up nearly 213% in April but fell 84% in the first quarter.
Airlines, hotels, restaurants and travel services stocks were slammed. American Airlines (NASDAQ:AAL) shares fell 57% in the first quarter and were taken out of the NASDAQ 100 Index. Warren Buffett's Berkshire Hathaway (NYSE:BRKa) sold all its shares in Delta Air Lines (NYSE:DAL), Southwest Airlines (NYSE:LUV), United Airlines (NASDAQ:UAL) not to mention American.
To see where there was strength in the market means looking at technology and communications services stocks. And mega cap stocks, especially Microsoft (NASDAQ:MSFT), Apple (NASDAQ:AAPL), Amazon (NASDAQ:AMZN) and Alphabet (NASDAQ:GOOGL).
And just plain hot stocks, like Tesla (NASDAQ:TSLA), up 47% for the month and 86% for the year as of April 30. Even CEO Elon Musk said on Thursday's analyst call the stock was too high; it fell 10.4% on Friday.
The trio of tech large caps, above, ended the month with valuations above $1 trillion. Google's parent, Alphabet had a market cap, as of Friday, of about $900 billion. Microsoft rose 13.6% for the month, with Apple up 15.5%, Amazon up 26.9% and Google up 16%.
Netflix (NASDAQ:NFLX) added 11.8% for the month. Wal-Mart (NYSE:WMT) was up 8.2% but also hit a 52-week high of $133.38 on April 22.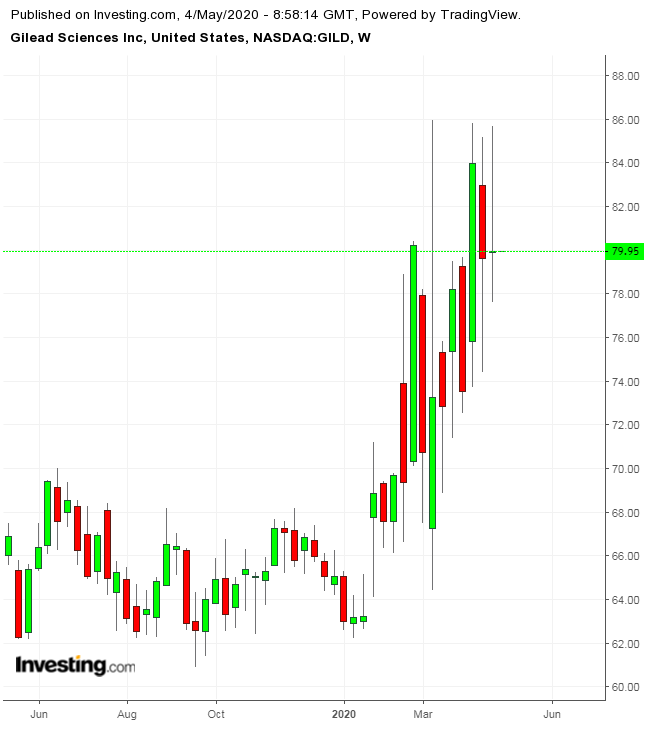 Gilead Weekly TTM
An important area of strength: healthcare shares, especially stocks of company's that have a shot at creating vaccines that can cure the coronavirus. Gilead Sciences (NASDAQ:GILD) jumped 21% during the month and is up 24% for the year because limited, early trials of its drug remdesivir helped COVID-19 patients recover more quickly.
Biotech stocks overall had a strong April. The NASDAQ Biotechnology Index was up 15%, recovering a 13.45% loss in March. The index rose 24.4% last year because of interest in cancer and related drugs.
April produced gaudy results for stocks. As Friday's slump, along with weak energy and U.S. index futures contract performance ahead of Monday's open show, investors will be facing a lot of volatility as the first trading week of May begins. The risks right now are numerous:
Markets face a barrage of bad news. This week brings the monthly U.S. report on jobs and unemployment. Economists polled see Nonfarm Payrolls falling a staggering 21 million in April, down from 700,000 or so in April. The unemployment rate could reach 16%.
How do economies get reopened when some 30 million people have been laid off and have filed for unemployment benefits? The Trump administration is letting states decide, and there's a great fear many communities are not ready, despite protests in some states where residents have been required to shelter at home. The proof of an unsuccessful restart will come if infection and/or mortality rates start rising. Mississippi held back on Friday for that reason.
The time needed to get an economy running at full capacity. Even if you agree to the terms of reopening an economy, it may operate only at 90% of capacity or less because consumers just coming off massive layoffs or business failures will require time to rebuild their confidence.
A possible rekindling of the U.S.-China trade fight. Part of this may be a Trump re-election ploy, but some of it is occurring because of the problems in getting China to acknowledge the coronavirus early on, where it seems to have originated.
The 2020 U.S. elections, likely to be among the most bitter ever.
Sounds daunting, but Berkshire Hathaway's Warren Buffett pronounced himself optimistic at the company's annual meeting on Saturday, even as his company reported a $49.7 billion loss for the first quarter. Most was due to writing off asset values because of the coronavirus.
"We've faced tougher problems, and the American miracle, the American magic, has always prevailed," Buffett said in livestreamed remarks. Clearly, he believes the markets will rise again.