Top News
More Upside Ahead For Intel Rally Even After 50% Surge In 6 Months
After massively underperforming its peers in the semiconductor sector in 2019, Intel Corporation (NASDAQ:INTC) stock is catching up fast.
The shares, which delivered almost half the gains of the benchmark Philadelphia Semiconductor Index last year, have surged 11% in 2020, outpacing the 4% expansion the index has produced. They closed yesterday at $67.44 a share, reaching the level they'd hit at the time of the 2000 tech bubble.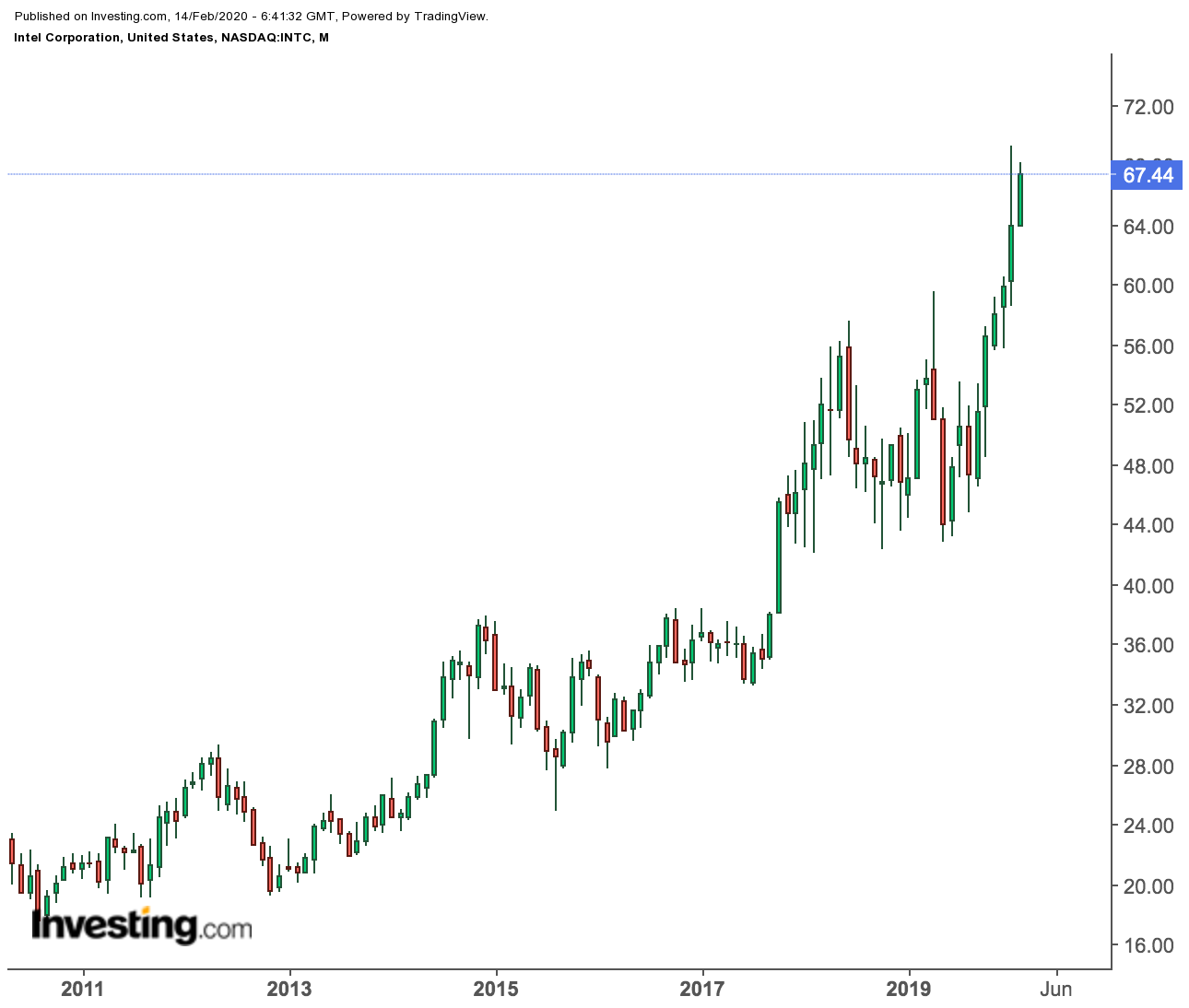 Intel Monthly Price Chart
And it seems this rally has legs. Intel is benefiting from robust sales of its high margin products, including its most advanced processors for datacenters. That demand helped propel earnings significantly higher than analysts had been expecting for the fourth-quarter.
For this year, the Santa Clara, Calif.-based Intel has a more upbeat forecast. Sales are likely to hit about $73.5 billion, higher than the Street's consensus estimate of $70.98 billion, again helped by the continuing strong shipments to datacentres run by the world's largest cloud computing firms, such as Amazon.com Inc (NASDAQ:AMZN) and Microsoft Corporation (NASDAQ:MSFT).
World Semiconductor Trade Statistics, an industry group that monitors the sector, predicts the chip market will rebound from last year's decline to 6% growth this year. While global trade conflicts and the 2020 elections in the U.S. pose potential risks, the market outlook remains bright, helped by the rollout of 5G services and the "hyperscale" datacenter capital investment cycle.
With datacentres, Intel is also seeing stronger-than-expected demand for chips that are used in personal computers. PC shipments rose by 4.8% in Q4, according to International Data Corp. figures, helping boost Intel's chip sales.
One of the biggest drags on its share price last year was that Intel has fallen behind in introducing its new chip technology, something many analysts believe should be one of its main growth drivers. Persistent delays in this area allowed Intel rivals, including Taiwan Semiconductor Manufacturing (NYSE:TSM) and Advanced Micro Devices (NASDAQ:AMD), to leapfrog ahead by rolling out their own lower-cost, higher-performing chips.
After spending a record amount in 2019 to keep up with the world's most advanced technologies, Intel is now catching up to stop the advances of competitors in this segment, ramping up the mass-manufacturing of the smallest transistors it has ever made, measuring roughly 10 nanometers in length, or less than 10 thousandths the width of a human hair.
Despite this improving outlook, observers are still divided on whether Intel stock is a better buy than its competitors. On the positive side, analysts at Cowen believe the largest chipmaker in the U.S. still offers value as it benefits from increased PC and server demand.
Also, Deutsche Bank's analyst Ross Seymor believes Intel could do better than its forecast this year and that its stock is offering "a positive risk/reward within an otherwise expensive semiconductor sector."
For other analysts, the competitive threats are still looming large and Intel will continue to lag behind when it comes to introducing new chip technology.
"It looks like Intel's 10nm server MPU [microprocessor unit] is at least one full year behind AMD, and we expect INTC to lose 2,000bps of server share to AMD over the next two years," Jefferies analysts led by Mark Lipacis, who rate Intel a hold, wrote in a recent note.
Bottom Line
With a forward price-to-earnings multiple of 13, Intel stock looks cheap when compared to its rivals. Its wide moat and massive R&D spending continue to make its shares a good long-term bet despite some competitive pressures. In addition, the stock pays $1.32 a share annual dividend that has been growing 7% per year, making it an attractive option to include in an investment portfolio.