Soon after the COVID-19 pandemic brought the global economy to its knees, two of the world's largest media businesses, Netflix (NASDAQ:NFLX) and the Walt Disney Company (NYSE:DIS) found themselves on diverging paths.
While stay-at-home orders boosted demand for Netflix video-streaming services, the outbreak hit Disney's diversified media empire more harshly. Its theme parks were closed, film releases delayed and sporting events canceled on the company's TV networks.
Four months into the pandemic, it's perhaps a good time to assess which media stock offers a better risk-reward proposition for investors who are looking for a more favorable entry point. Let's take a deeper look.
Netflix: Upward Trajectory Continues
Netflix has been one of the strongest equity performers of 2020, surging as the pandemic kept people indoors, spurring demand for its streaming service.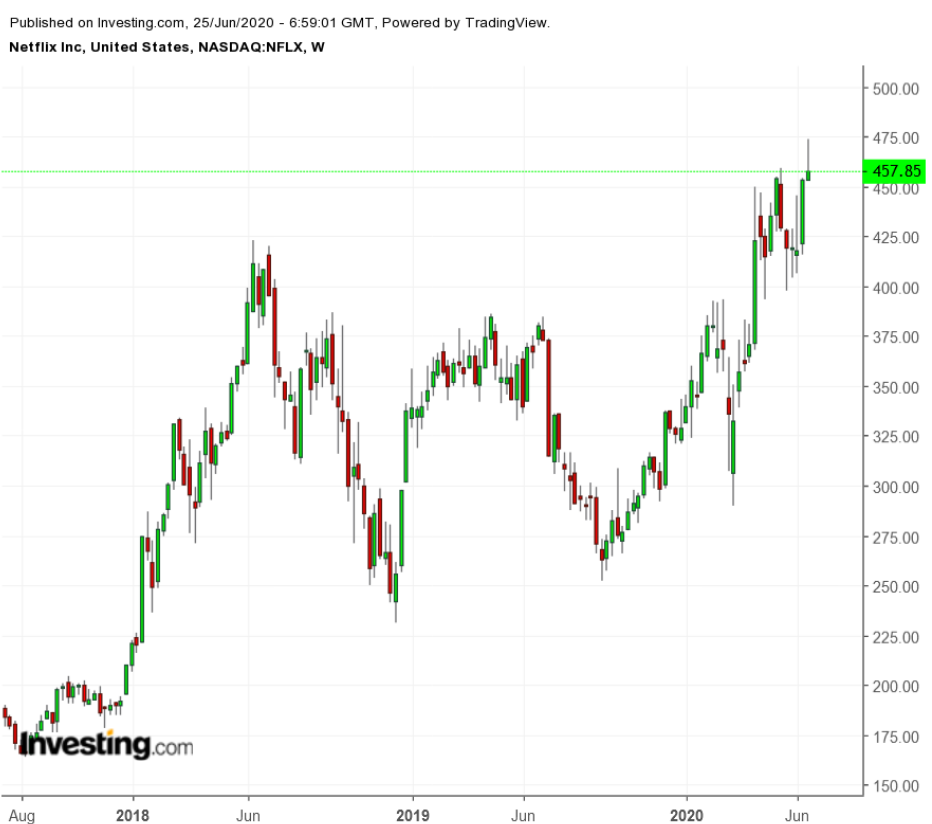 NFLX Weekly 2017-2020
The stock has surged 56% off the low it hit on March 16. It reached a record high of $474.01 intraday on Tuesday, June 23, but dropped as much as 2.5% on Wednesday, closing down 1.80% at $457.85, amid the broad stock market sell-off.
The size and speed of the recent advance in Netflix stock has many investors wondering, how much higher can it can go? The answer: it depends on how quickly Netflix can translate stay-at-home gains into real numbers.
On this front the company's latest earnings guidance sent a mixed message, leaving some room for a negative surprise.
"Like other home-entertainment services, we're seeing temporarily higher viewing and increased membership growth," the company said in a letter to investors in late April when Q1 earnings were being reported.
"We expect viewing to decline and membership growth to decelerate as home confinement ends."
By adding a record 15.8 million subscribers in the last quarter, Netflix showed it was the first choice for billions of people stuck in lockdown, many of whom were binge-watching such original Netflix programs as "Tiger King" and "Love Is Blind" to ride out the quarantine.
All this, in our view, is already fully priced in. We believe, therefore, that stock's rally could pause as investors wait to see whether subscribers keep their connections even when the U.S. moves to reopen its economy when many states lift strict lockdowns.
Disney: Unchartered Territory
Unlike Netflix, Disney is in the middle of a nasty downturn. Its businesses–which thrive on shared group experiences–are suffering after the global spread of COVID-19 forced the closure of its theme parks, resorts, movie theaters and cruises around the world.
Few entertainment companies are as exposed to the pandemic's effects as Disney. The world's largest entertainment company has not only closed theme parks but watched box-office receipts disappear as movie theaters shut down.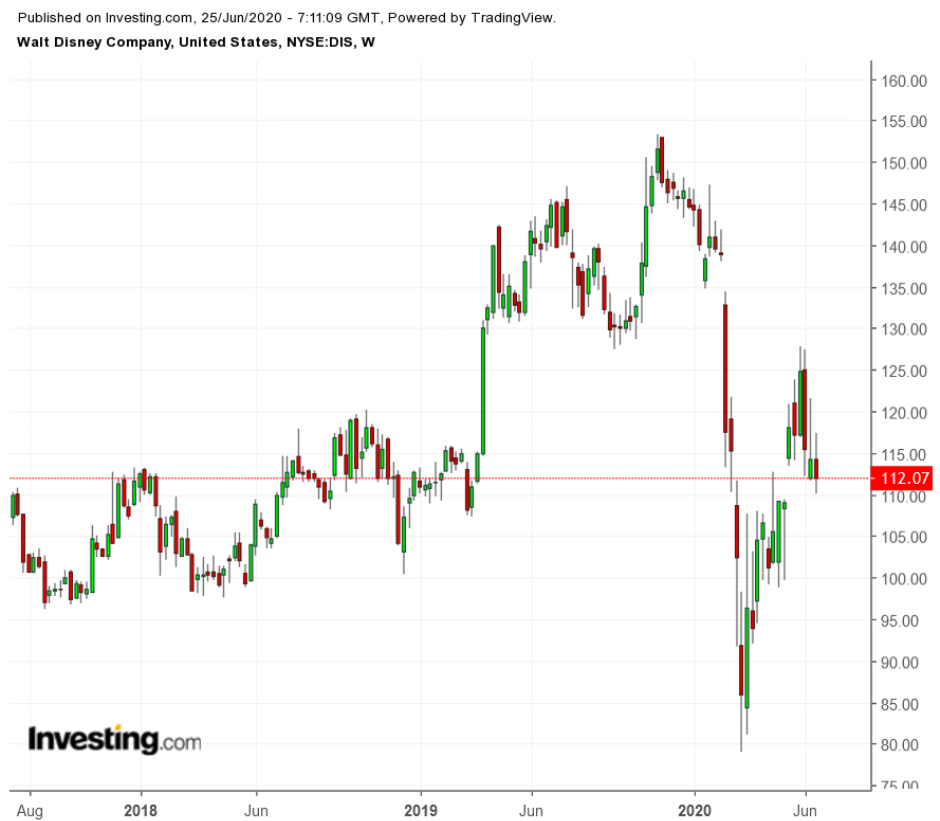 DIS Weekly 2017-2020
Given all this, the performance of Disney shares is very much dependent on how quickly the pandemic is contained. Unfortunately, the news on that front isn't encouraging. Data suggests that Florida and California–where Disney theme parks are located–are seeing a surge in coronavirus cases. They set daily records for new cases yesterday, while Houston said its intensive-care unit beds are at 97% capacity.
Indeed, late yesterday, Disney announced it was delaying the reopening of both its Florida and California resorts and theme parks, which had been scheduled to resume operation on July 17. A new reopening date has not yet been released.
Disney shares closed down 3.88% yesterday, at $112.07. The stock has lost a quarter of its value so far this year.
In this dismal situation, where the future is rife with uncertainty, it's tough to get excited about Disney's stock. One bright spot in this otherwise gloomy outlook: the company's newly-launched Disney+ video streaming service.
Boosted by stay-at-home orders, the service is expanding rapidly. It's grabbed more than 56 million subscribers since its launch in November. Though still burning cash, Disney+ is in strong growth mode and could become one of the company's major revenue-generating units in the post-pandemic world.
Bottom Line
With Netflix stock fully pricing in the impact of tailwinds coming from the pandemic and Disney's path to renewed profitability remaining uncertain as the pandemic continues to rage both within the U.S. and globally, both stocks don't seem to be offering much upside in the short-run.
That said, we find Disney stock attractive for long-term investors who believe the virus will ultimately be defeated and the company's entertainment assets won't sit idle for too long. Such investors might get a good entry point if the current sell-off accelerates.