Top News
Opening Bell: Futures, Global Stocks Reverse Lower; Oil Testing 17-Year Lows
Trump Administration promises $1.2 trillion stimulus package Tuesday, Wall Street briefly rises
U.S. futures, Asian indices reverse on Wednesday
WTI hovers around 2003 lows
Key Events
U.S. futures for the S&P 500, Dow Jones and NASDAQ all hit their daily down-limits on Wednesday, halting trade, after retreating from yesterday's rallies on Wall Street. European shares opened lower and have continued to fall; major Asian indices all closed down.
Yields advanced after massive monetary and fiscal stimulus was announced by a variety of global governments and central banks including in the U.S., the UK, Spain and France, in an attempt to stabilize the economy as the worst public health crisis this century remains a risk.
Oil is flirting with a 17-year low, as it hovers around $25.83, a low last seen in 2003.
Global Financial Affairs
After initially trading higher this morning, contracts on the S&P 500 fell again, in what seems to be yet another, daily, market seesaw on steroids. The pan-European STOXX 600 Index was down from the start. Energy and financials led all 19 industry sectors lower.
Asia was bathed in red, after–along with U.S. futures–initially rallying. Australia's ASX 200 closed 6.43% lower, making it today's worst performer. The move wiped out yesterday's 5.83% gain, its biggest advance since 1997. Japan's Nikkei 225 outperformed, falling 'only' 1.68%.
On Tuesday, the S&P 500 Index gained nearly 6% and the Dow Jones Industrial Average added 5.2% of value, just a day after the biggest selloff since 1987. The reversal was triggered by the Trump administration promising the U.S. was preparing to send checks to Americans, to undo some of the economic damage caused by the virus.
Treasury Secretary Steven Mnuchin warned that the pandemic could wreak havoc in the jobs market, leaving 20% of Americans unemployed, without government intervention.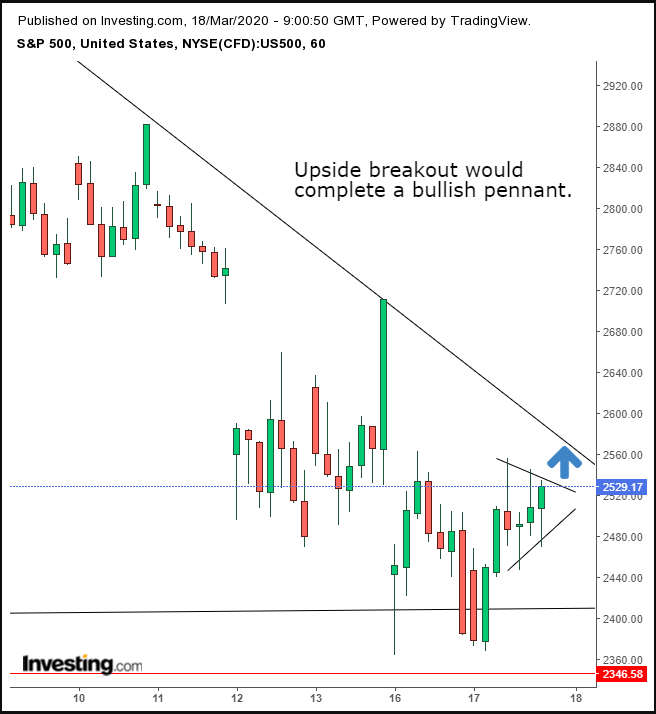 SPX Hourly Chart
Technically, yesterday's trading formed a bullish pennant. An upside breakout, which would include penetrating through the downtrend line, would boost demand, sending prices higher.
Yields jumped for a third day, partly because of yesterday's risk-on sentiment, but also because of the unprecedented easing underway.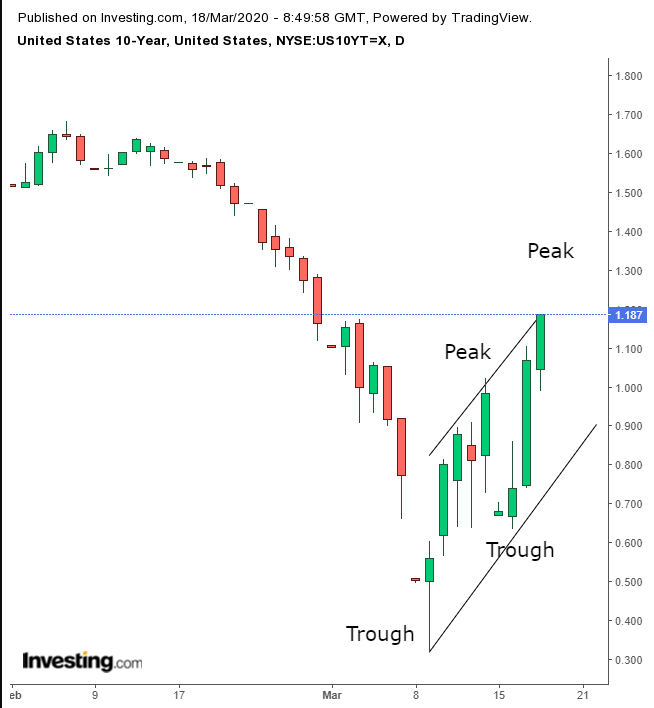 UST 10Y Daily
However, technically, yields, including for the benchmark U.S. 10-year Treasury note, established an uptrend.
The Dollar Index recovered from a decline, to rally for a second day, a sixth up-day out of seven.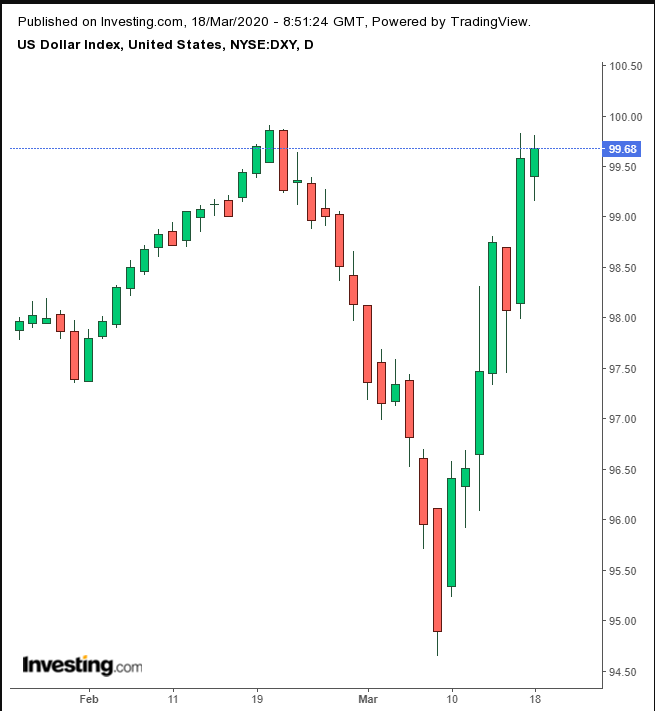 DXY Daily
However, it's struggling against the resistance of the Feb. 20 high.
Oil fell for the third day, as the Saudi Arabia versus Russia price war floods the market even as demand decreases.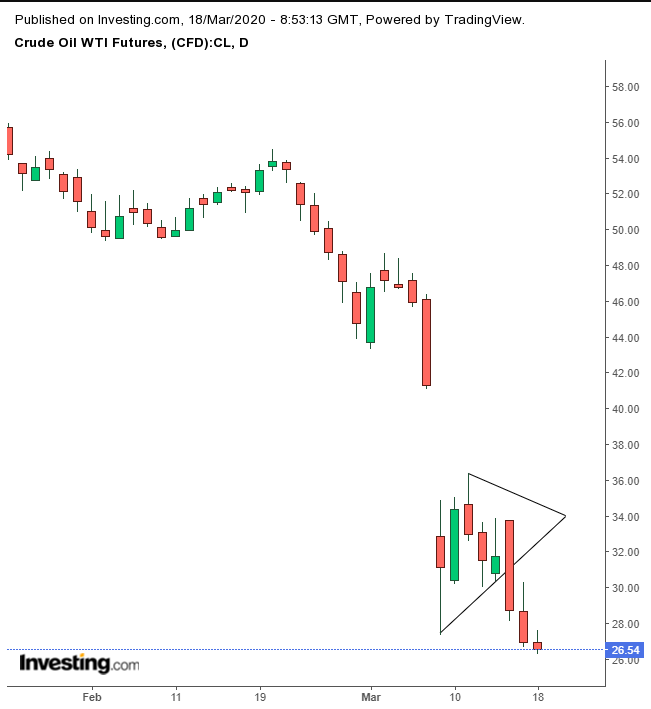 Oil Daily
Technically, the price is struggling between a completed bearish pattern and the historic support of the February 2016 low.
Up Ahead
The U.S. releases Building Permits numbers for February later today. Expectations are they'll have remained flat at 1.500M
Weekly U.S. oil inventories will also be published later today. The commodity has been the most volatile asset during this crisis.
Market Moves
Stocks
Currencies
The Dollar Index increased 0.12 percent after falling 0.18%, completing a 0.3% move.
The yen was up 0.3% at 107.37 per dollar.
The euro traded at $1.0976, up 0.2%.
Bonds
The yield on 10-year Treasuries rose 11 basis points to 1.2%. It had jumped 36 basis points on Tuesday.
The yield on German 10-year bunds climbed 13 basis points to -0.29%
Commodities
West Texas Intermediate crude dropped 3.2% to $26.10 a barrel.
Gold was down 1.6% at $1,504 an ounce.