Investing Ideas
Opening Bell: Futures, Stocks Dive, Gold Pops As Investors Flee Risk Assets
U.S. futures struggle against uptrend linesGold hits fresh multi-year highUST 30-year yields fall to fresh, new lows
Key Events
U.S. index futures, including for the NASDAQ, Dow and S&P 500 all plunged this morning, along with European and Asian indices, as the trading week kicked off on Monday. Investors sought refuge in gold, bonds and the yen, so-called haven assets, after the number of coronavirus cases reported outside China accelerated.
The yield decline steepened and oil prices collapsed.
Global Financial Affairs
Risk-off returned to markets with a vehemence today, as warnings of a global epidemic escalated over the weekend. The number of reported cases of Covid-19 in South Korea, Japan, Singapore, Iran and Italy, among other countries, all rose. At time of writing, the fatality rate has hit 2,619.
Adding to the market's grim sentiment, during the weekend, G-20 leaders, meeting in Riyadh, Saudi Arabia said "the fast-spreading coronavirus posed a serious risk to global growth."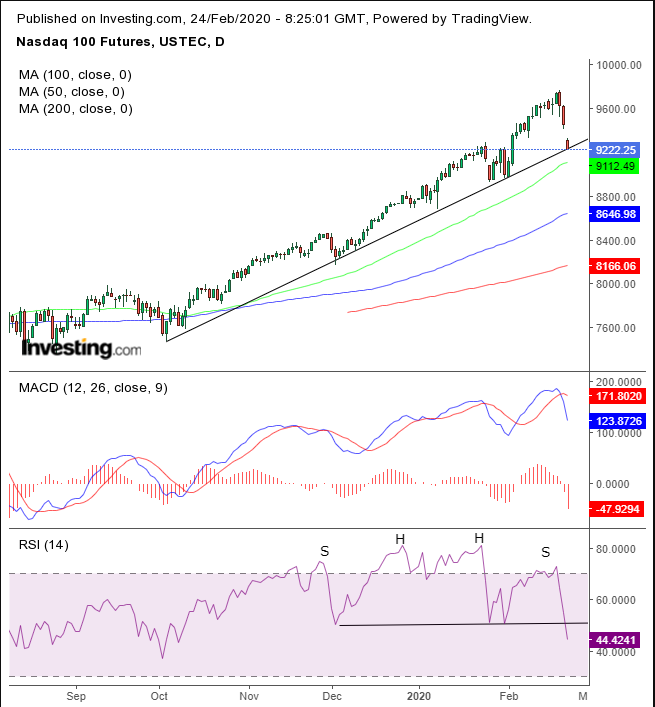 NQ Daily
NASDAQ futures are struggling to remain above an uptrend line from the Oct. 3 low, while the RSI completes a H&S pattern, signaling the uptrend line will fail to keep prices up much longer.
Shares of automakers and miners dragged the STOXX Europe 600 Index lower today. Italy's FTSE MIB is down more than 4%. Italy, with 157 reported cases of Covid-19, along with 3 deaths, is looking like it's Europe's epicenter for the pandemic. Government authorities there have locked down an area of 50,000 people near Milan. The country's government bonds slumped.
In Asia, Japan's markets are closed for a holiday. However, South Korea's KOSPI suffered a near-4 percent loss of value. Hong Kong's Hang Seng, China's Shanghai Composite and Australia's ASX 200 were all hit with selloffs as well.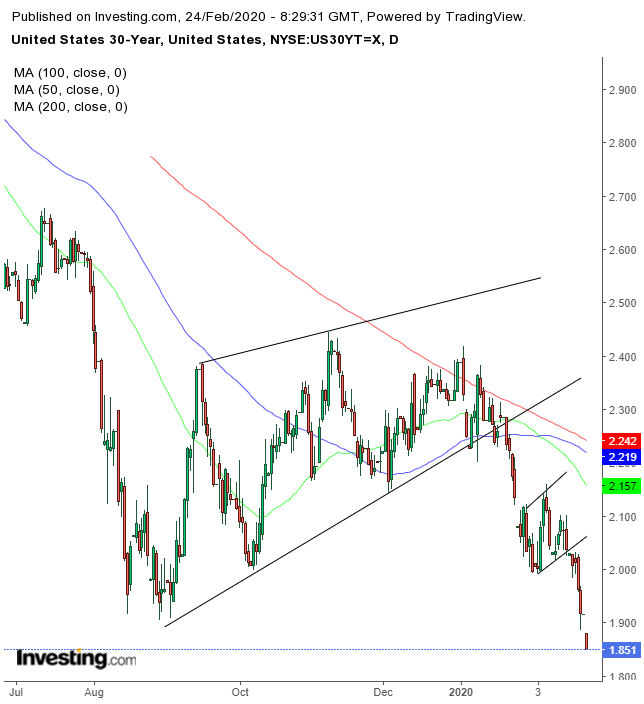 UST 30Y Daily
Yields on 2- and 10-year Treasurys fell to the lowest since mid-2016 while the 30-year, long bond plunged to an all-time low, after completing two continuation patterns.
The Australian dollar dropped to a fresh, 11-year low.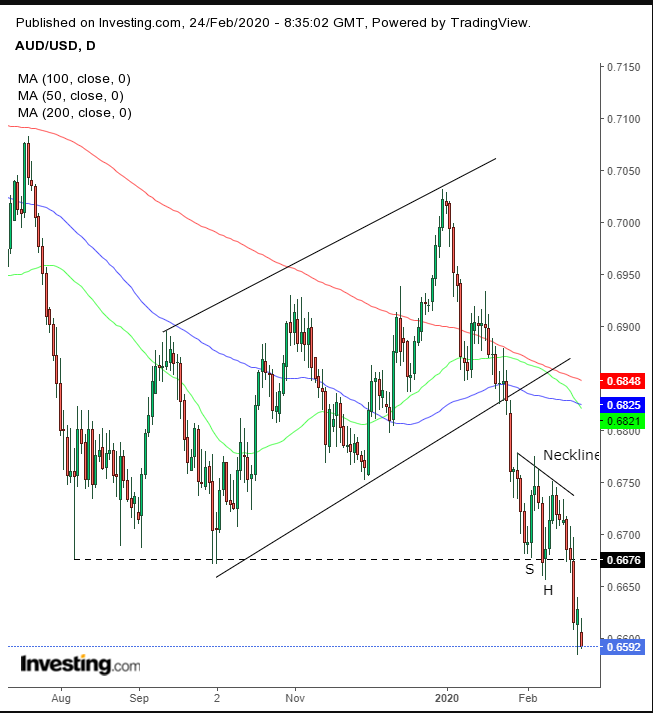 AUD/USD Daily
Note the chart's similiarty to that of yields, demonstrating the strong dollar dominance of these moves. The Aussie has broken a variety of technical gauges including falling below its rising channel since September, and a bearish downturn in its MAs.
Gold gapped up this morning, reaching $1,689, the highest level for the yellow metal since early 2013.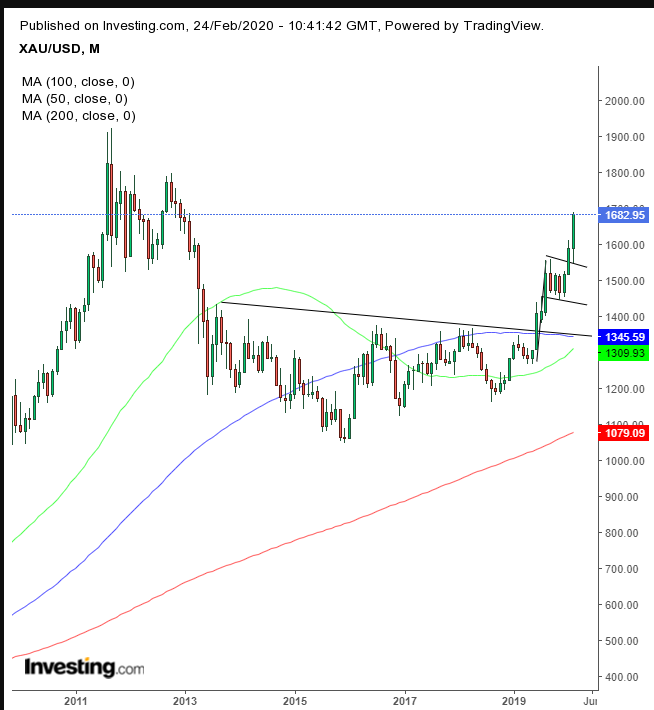 Gold Monthly
Gold is extending an upside breakout to a continuation pattern, as is appropriate after completing a massive bottom since mid-2013, as per a call we made back in August.
Up Ahead
Earnings results keep on coming. This week, investors will hear from: Home Depot (NYSE:HD) and Salesforce.com (NYSE:CRM) on Tuesday; Peugeot (OTC:PUGOY) on Wednesday; Baidu (NASDAQ:BIDU), Best Buy (NYSE:BBY) and Dell (NYSE:DELL) Thursday; and Beyond Meat (NASDAQ:BYND) on Friday.
The next Democratic presidential debate, this time in South Carolina, will take place on Tuesday.
The Bank of Korea announces its policy decision on Thursday, with risks to its economic outlook growing amid a local surge in coronavirus cases.
U.S. jobless claims, GDP and durable goods released on Thursday.
Japan's industrial production, jobs, and retail sales figures are due on Friday local time (late Thursday evening in the U.S.).
Market Moves
Stocks
Currencies
The Dollar Index rose 0.3%.The euro declined 0.2% to $1.0821.The British pound dipped 0.2% to $1.294.The Japanese yen strengthened by 0.1% to 111.47 per dollar.
Bonds
The yield on 10-year Treasuries fell seven basis points to 1.40%.
Germany's 10-year yield decreased four basis points to -0.48%.
Britain's 10-year yield decreased three basis points to 0.543%.
Commodities
West Texas Intermediate crude sank 2.9% to $51.82 a barrel.Gold strengthened 2% to $1,676.31 an ounce.