Rollins, Inc.'s (NYSE:ROL) wholly-owned subsidiary Orkin has launched Orkin VitalClean, a disinfection service capable of suppressing a wide range of germs.
Orkin stated that the disinfectant used in the service is Environmental Protection Agency (EPA) registered and labeled for use against a wide range of pathogens including the causative agents of coronavirus (particularly feline coronavirus and canine coronavirus), swine flu and avian flu.
EPA rated this disinfectant as Toxicity Category IV, its lowest toxicity rating. This means that it has almost no toxicity, is non irritant, does not contain ozone-harming volatile organic compounds and is mild on skin, fabric and hard surfaces.
The company claims that the disinfectant is capable of completely eliminating bacteria and viruses from hard, non-porous surfaces if applied at full strength in conformity with the product label by trained Orkin technicians.
We observe that Rollins shares have decreased 19.5% over the past year, compared with the 28.2% fall of the industry it belongs to.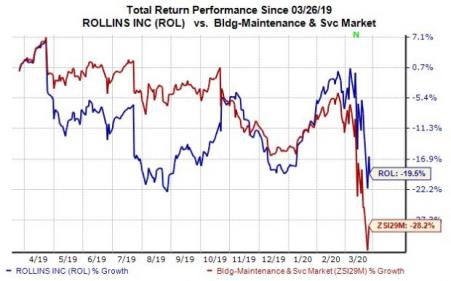 A Well-Timed Move
The move makes sense as concerns related to public health are increasing across the world amid the coronavirus pandemic.
Judy Black, vice president of Quality Assurance and Technical Services, Rollins stated that the Centers for Disease Control and Prevention has approved the disinfectant for EPA's fast-track review for specific use against the SARS-CoV-2 virus.
"During this unpredictable and stressful time, for businesses especially, we want to do our part to help. There's no silver bullet for stopping COVID-19 yet, but this powerful cleaning treatment should prove to be a very important step in helping to remove pathogens from facilities," said Orkin president Freeman Elliott.
Zacks Rank and Stocks to Consider
Rollins currently carries a Zacks Rank #3 (Hold).
Some better-ranked stocks in the broader Zacks Business Services sector are Charles River Associates (NASDAQ:CRAI) , Genpact Limited (NYSE:G) and Blucora, Inc. (NASDAQ:BCOR) , each carrying a Zacks Rank #2 (Buy).You can see the complete list of today's Zacks #1 Rank (Strong Buy) stocks here.
Long-term expected EPS (three to five years) growth rate for Charles River, Genpact and Blucora are 13%, 14% and 20%, respectively.
Just Released: Zacks' 7 Best Stocks for Today
Experts extracted 7 stocks from the list of 220 Zacks Rank #1 Strong Buys that has beaten the market more than 2X over with a stunning average gain of +24.5% per year.
These 7 were selected because of their superior potential for immediate breakout.
See these time-sensitive tickers now >>
Charles River Associates (CRAI): Free Stock Analysis Report
Rollins, Inc. (ROL): Free Stock Analysis Report
Genpact Limited (G): Free Stock Analysis Report
Blucora, Inc. (BCOR): Free Stock Analysis Report