Stock Analysis
Stocks Jumpec Yesterday With Almost Nothing Left To Stand In Their Way
Stocks jumped on August 5 despite the weaker than expected ADP job report. ADP noted that 167,000 jobs were created in July, which was less than estimates for 1.9 million jobs created. Meanwhile, ISM services came in better at 58.1 versus estimates for 55. The market's reaction is never surprising these days, as stocks rise no matter what the news of the day is. There seems to be nothing that can derail the stock market at this point.
Of course, the significant number will come on Friday and good or bad, it probably won't matter. These days good news is good news, and bad news is good news. At some point, all of the debt will be bad news, because it takes away from future growth, but the only thing that matters is the here and present.
By no means does this imply, I'm chasing the market here, or adding names to my portfolio. Not a chance. It just means that the markets, as we already knew, are very detached from anything anchored in reality. At some point, it will be attached to the economy; the big question is when. Please don't kid yourself into thinking it is different; it is not.
S&P 500
If stocks were to have an abrupt turn around this would be the place for it, around 3330, with the S&P 500 very close to filling the gap created on February 24. It is the very last gap to be filled from the March sell-off. There is perhaps a rising wedge pattern that has formed in the chart, with a little bump out developing. Again, a bearish pattern. If the index didn't turn lower and decided to keep plowing higher, then the next stop will be all-time highs for the S&P 500. There was even someone betting the S&P 500 would rise above 3,550 by December.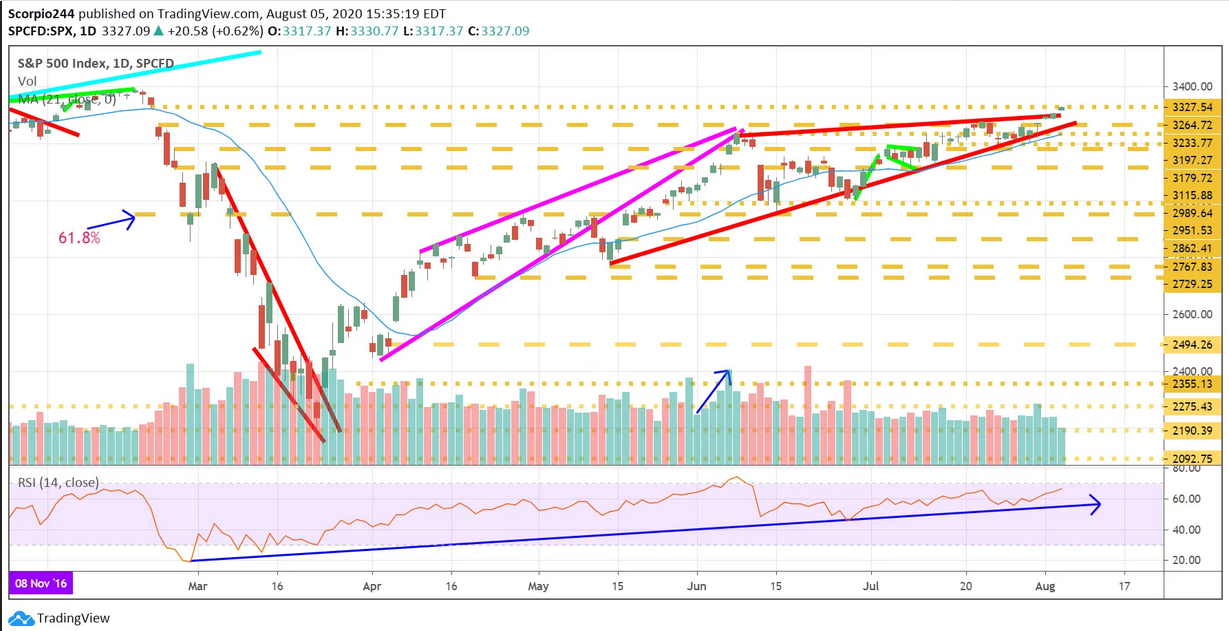 SPX Daily Chart
Gold
Meanwhile, gold continues to rise as the dollar continues to sink. Some think this in an inflation trade; it is not. It is a store of value, safe-haven trade. Gold is not rising because people are fearful of inflation. There is no inflation, and there won't be for some time. The velocity of MZM fell below 1. It means that every dollar of MZM produced, there is less than $1 in GDP created.

Velocity Of M2 Money Stock
Amazon
Amazon (NASDAQ:AMZN) has been consolidating a bit since reporting results staying within that triangle. Typically, I'd lean on the RSI to tell me the direction of the stock, which happens to suggest the stock falls. But none of that matters in this market, as the next likely move will be up but of course. Because these triangle patterns, lately almost always lead to higher prices.
Amazon Inc Daily Chart
Western Digital
Western Digital (NASDAQ:WDC) did not report strong results and is falling after hours. Maybe that is why we have seen bearish betting on Micron (NASDAQ:MU) in recent days. WDC also provided weaker than expected guidance, which missed estimates by a wide margin. The stock has broken support and appears it can head towards $35.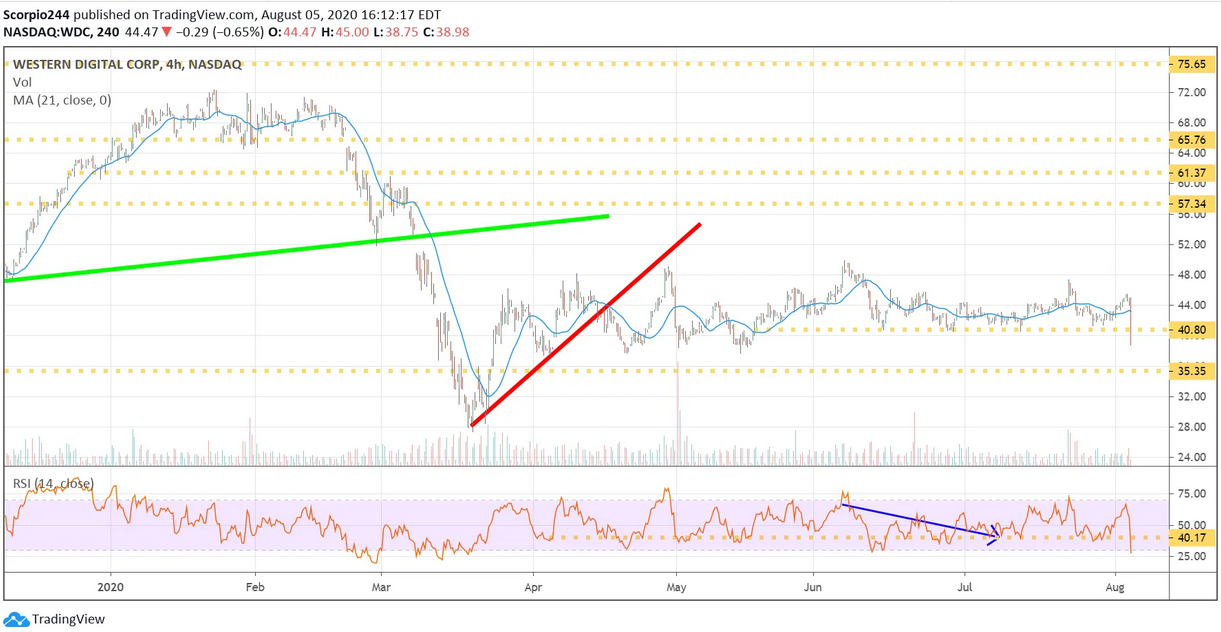 Western Digital Corp Chart
Micron
Micron is trading down in sympathy, and I still think it heads lower towards $45.50, yes, even in this market.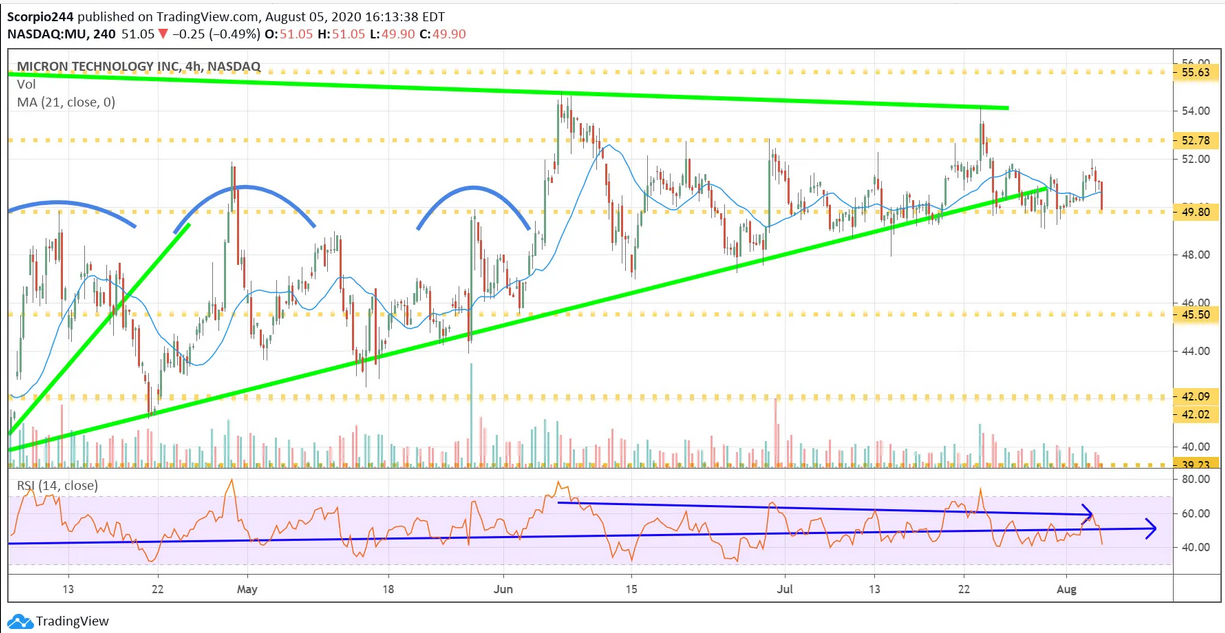 Micron Tech 4 Hr Chart
Roku
Roku (NASDAQ:ROKU) reported better results but gave no guidance. The company noted it doesn't see TV ad spending returning to pre-COVID levels until well into 2021. At the moment, the market seems unimpressed, with shares holding unchanged. A drop below $160 triggers a decline to around $150.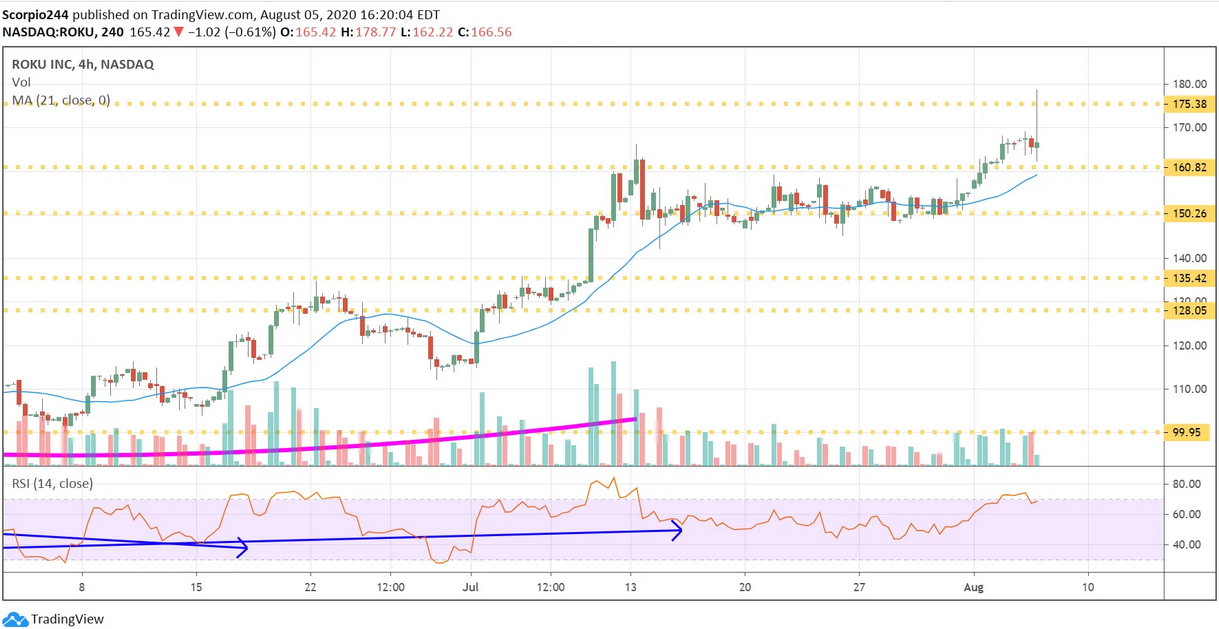 Roku Inc 4 Hr Chart
Acadia
Acadia is rising a bit after hours; the company reported better than expected results and raised the lower end of its revenue guidance. If it can clear $44.50, it opens the door to a significant gap-fill to around $55.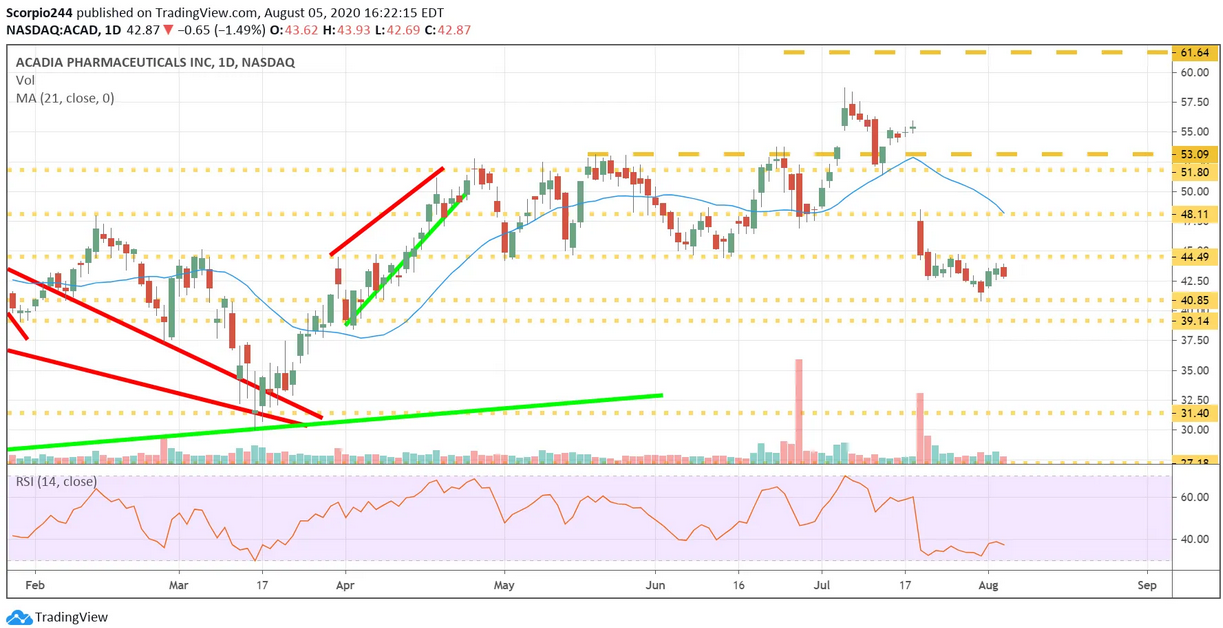 Acadia Pharma Daily Chart
Anyway, have a good one