S&P 500
Stocks had an okay day yesterday, rising by about 50 basis points on the S&P 500. It could have been much better, but the index can't get out of its way. There is something that is happening in the E-minis and the SPX cash that there is a huge level of resistance the market just can't get through. I think it is a negative sign for the index at this point.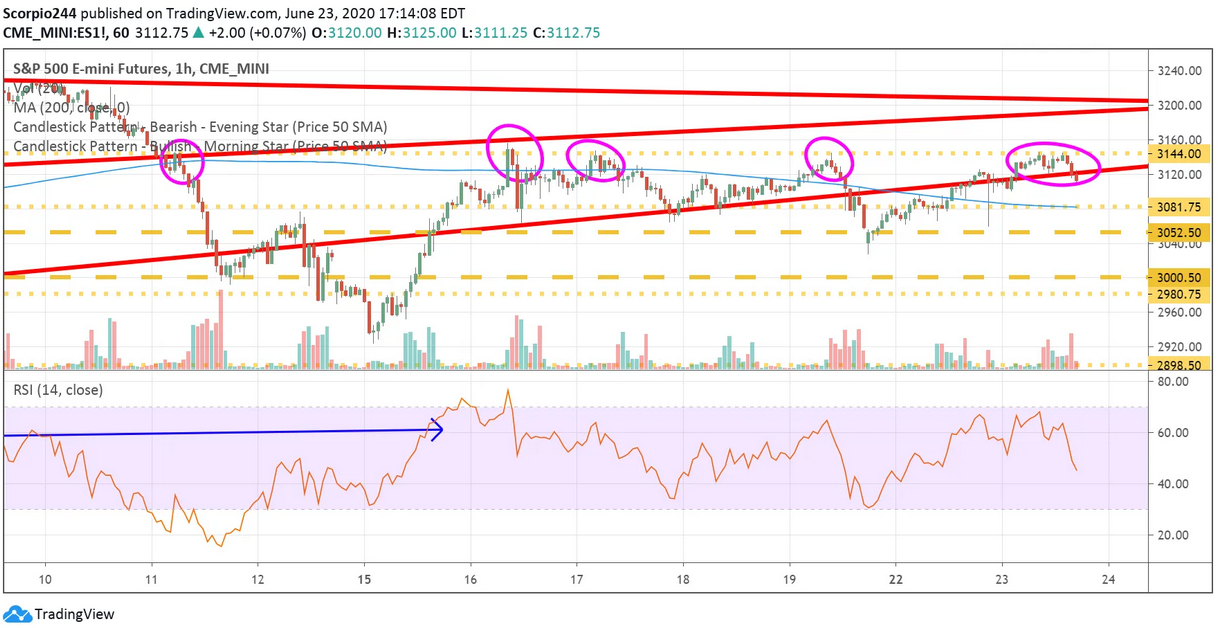 S&P 500 Emini Futures Hourly Chart
Yesterday marked the fifth time the futures have failed at 3,145. Something similar did happen in July 2019, and it led to a sizeable sell-off of about 8% at the time. 8% doesn't seem so scary or severe, given what we have gone through. It also resulted in August being an extremely choppy month.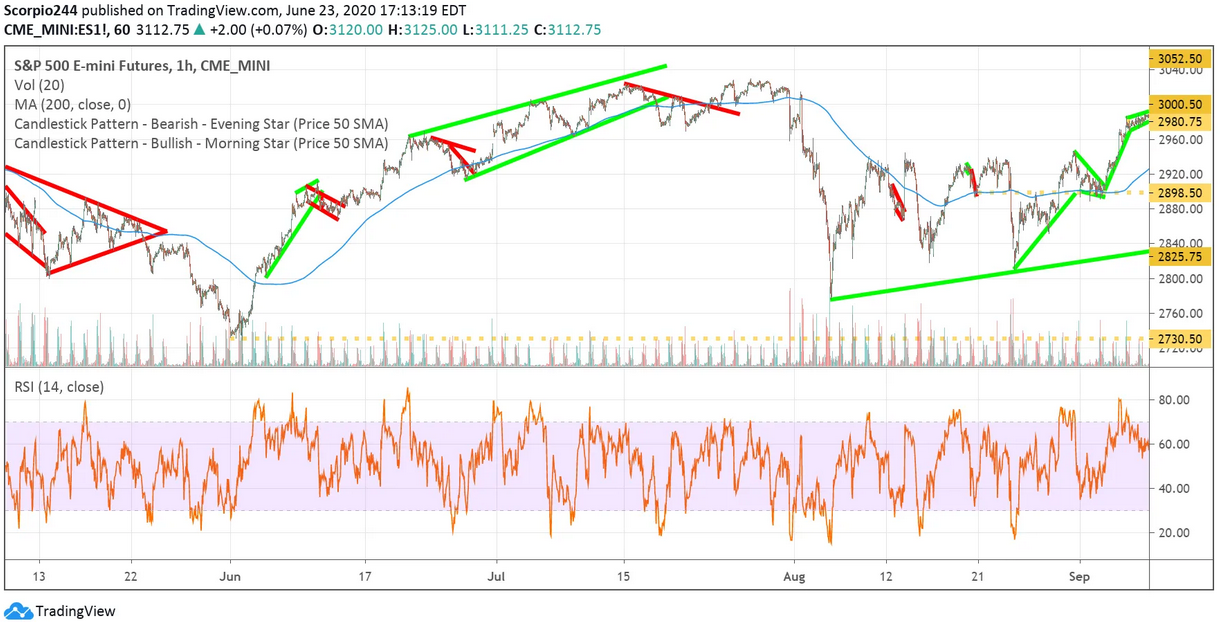 S&P 500 Emini Futures Chart
I think the S&P 500 is setting up for a decline to around 2,960.
NASDAQ
The NASDAQ is just not set up to go higher either at this point. It is now the sixth time the QQQ reached the upper level of its trading range. Since April, every time the ETF has hit that upper range, it has resulted in a decent pullback. Additionally, the ETF's RSI hit overbought levels today around 70. It seems like there is a good chance here for the QQQs to fall back to $240.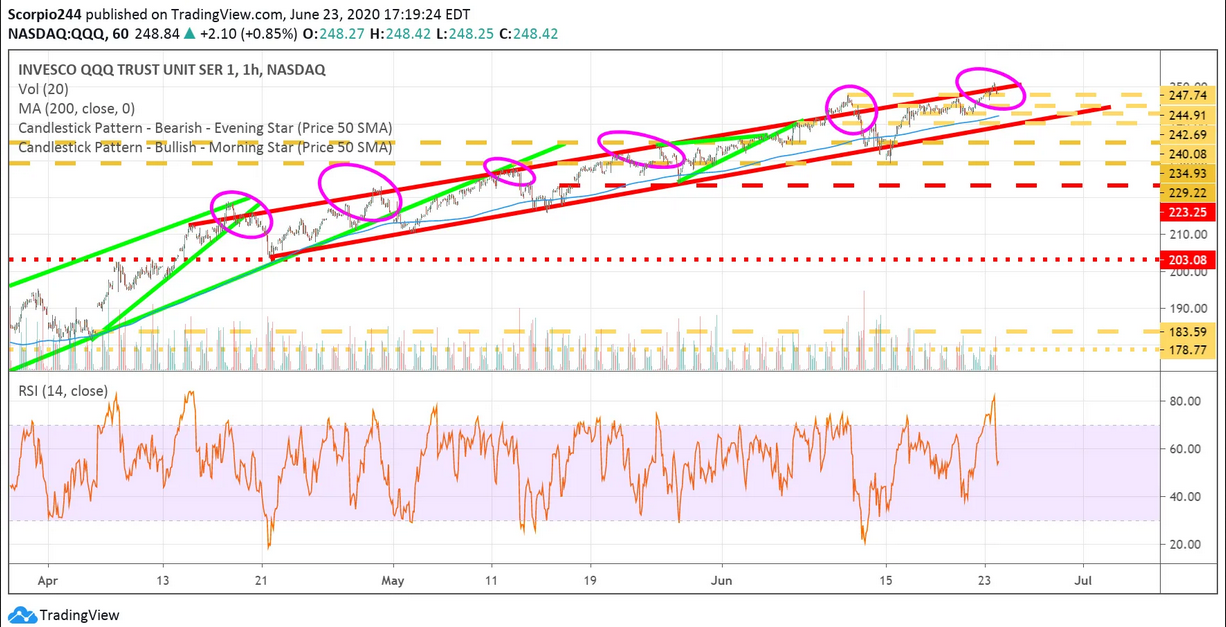 QQQ 1 Hour Chart
Technology
The Technology Sector ETF (NYSE:XLK) also continues to move higher, but interestingly, the trading channel is not a channel at all. It hasn't become apparent until recently to me, but it is one large rising wedge pattern. You can see when the channel started in April it was about 8% wide, now it is just 3% wide.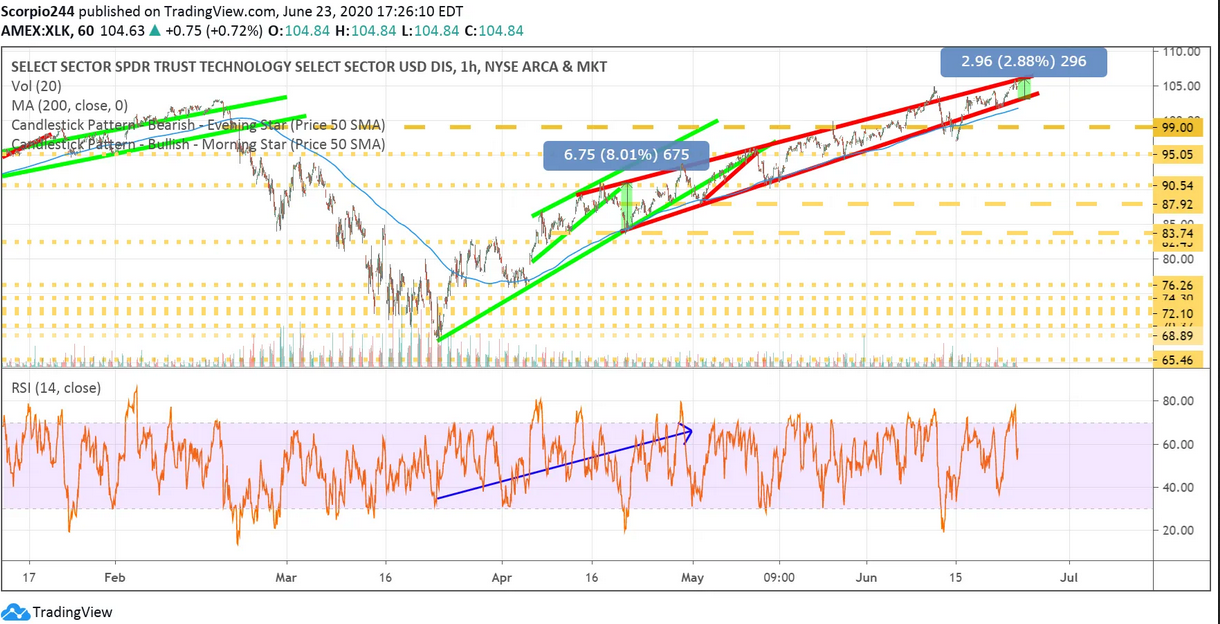 XLK Chart
Alibaba
Alibaba (NYSE:BABA) has had a powerful run and is pushing up near resistance at $231. The RSI is still tracking higher, and I think the stock continues to push up, despite broader market weakness. $247.50 is an achievable level.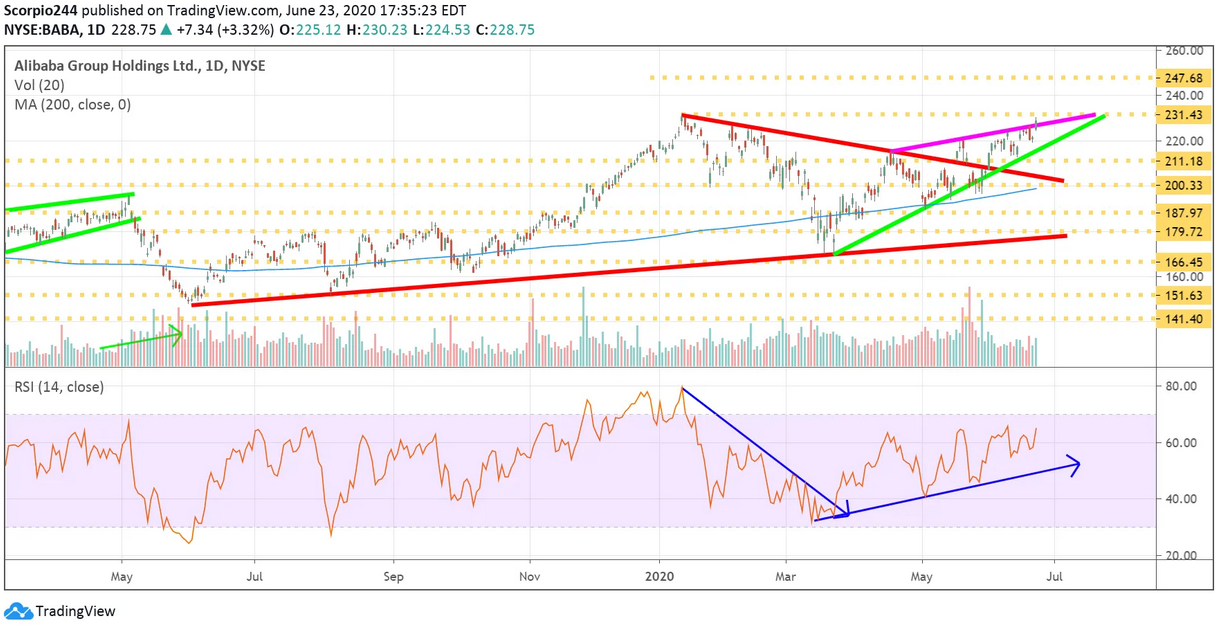 Alibaba Ltd Daily Chart
Apple
Apple (NASDAQ:AAPL) continues to melt higher, and nobody could be happier than I am. But even I know when stocks I own need to cool off, Apple needs to cool off. The RSI is over 70 again, and the stock hit that resistance level I point out a few weeks ago at $372. So this seems like the ideal place for a pullback to $325.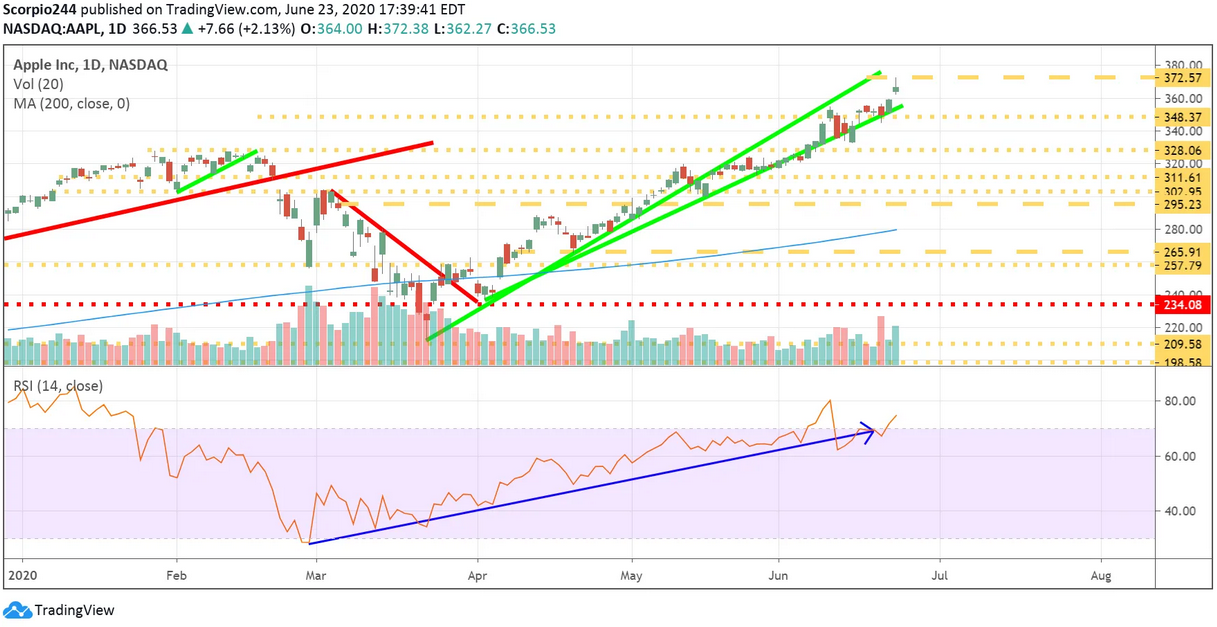 Apple Inc Daily Chart
Intel
Intel (NASDAQ:INTC) doesn't look particularly strong here, with the potential to drop to around $55.90.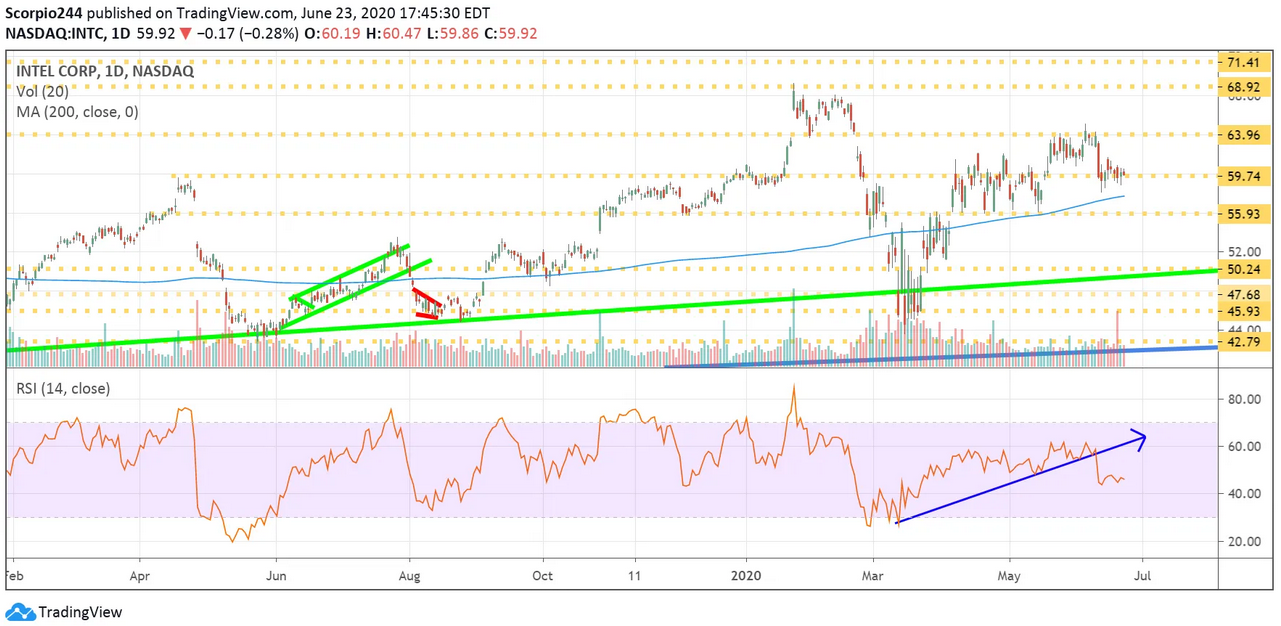 Intel Corp Daily Chart
Micron
Micron (NASDAQ:MU) is also sitting on support at $49.80, and the RSI is moving lower. I think the odds of a drop to $45.50 are rising.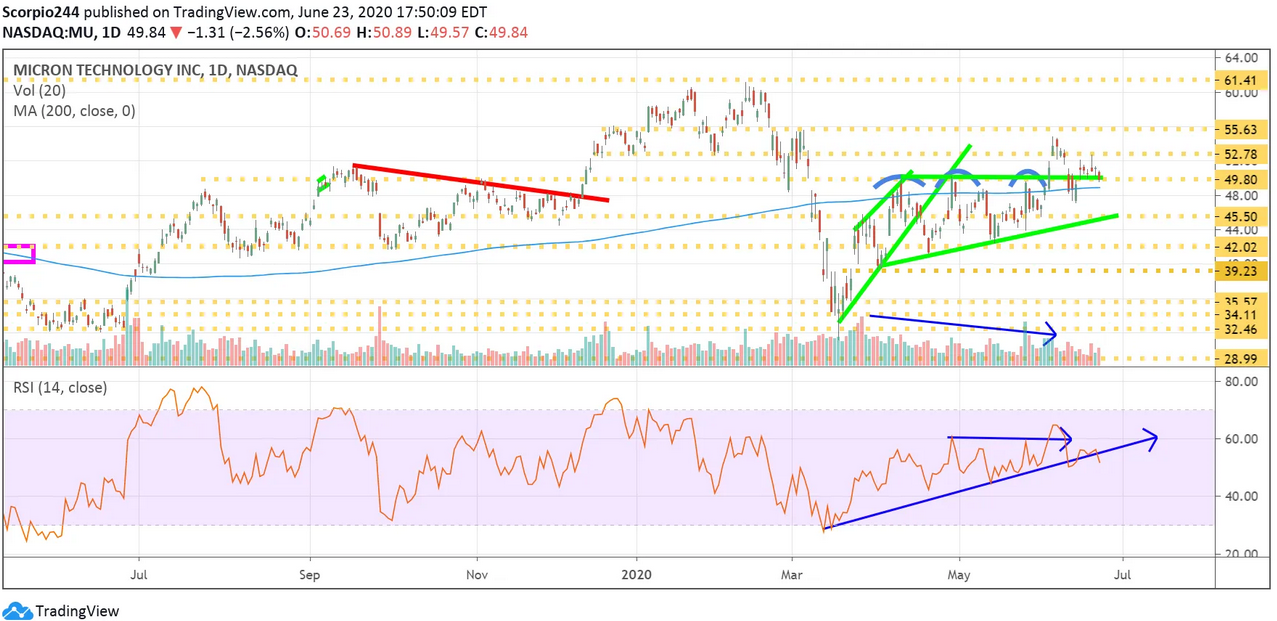 Micron Inc Daily Chart
ACADIA Pharmaceuticals
ACADIA Pharmaceuticals (NASDAQ:ACAD) is so close to making a new all-time high. Yesterday it got some positive commentary out of Jefferies about the companies upcoming readout for its depression trial. I think there will be plenty more positive commentary to come. I happen to believe they will have a positive readout for depression as well. A break out could push shares on to $75.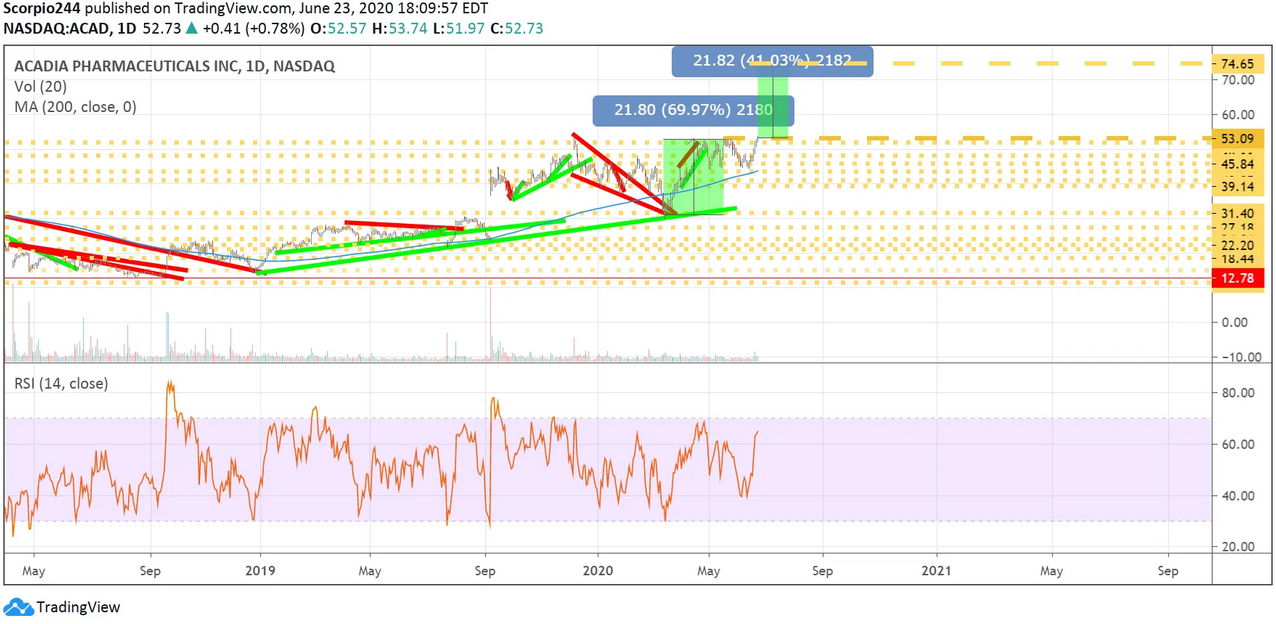 Acadia Inc Daily Chart