Stock Analysis
Tesla's Rally Continues As Expected, But Downside Risk Increasing
Over the last few weeks, I have kept your updated on what Tesla (NASDAQ:TSLA) would most likely do. See my articles here and here.
In summary, I forecasted:
"Tesla should bottom at, ideally, around $1,369-1,320, and from there rally to, ideally, $1,820-1,910."
One month later, my upside target has even been surpassed. Bonus!
Now, I do not get my calls always right, nobody does, but these mini-series shows the power of the Elliott Wave Principle when applied correctly. The track record is too good even to consider markets and stocks move randomly, on the news, and/or cannot be forecasted–quite the opposite. There is method to the madness.
So, where does that leave Tesla now? And why did its stock move above the initial upside target zone of $1,820-1,910?
Well, red wave-v is extending. When a new wave starts, be it up or down, one cannot know beforehand if it will extend, i.e., become longer than "normal" or not. "Normal" in this case means the typical/textbook/standard Fibonacci-based relationship between 1st and 5th waves (in this case red wave-i and v): wave-v is 1.00x wave-i, but it can be shorter (0.5 to 0.764x or longer 1.236 to 1.618+ times). Currently, it is longer, because red wave-v is subdividing into five smaller (green) waves, with -IMHO- green wave-5 now under way. Applying the same Fibonacci-extension technique for this green wave-5 as for the one degree larger red wave-v, it should typically top out between the 0.764-1.00x extension of green wave-1: $2030-2115. Of course, wave-5 can also extend. Then, we have an extension within an extension on our hands. To be determined.
Figure 1: TSLA daily chart.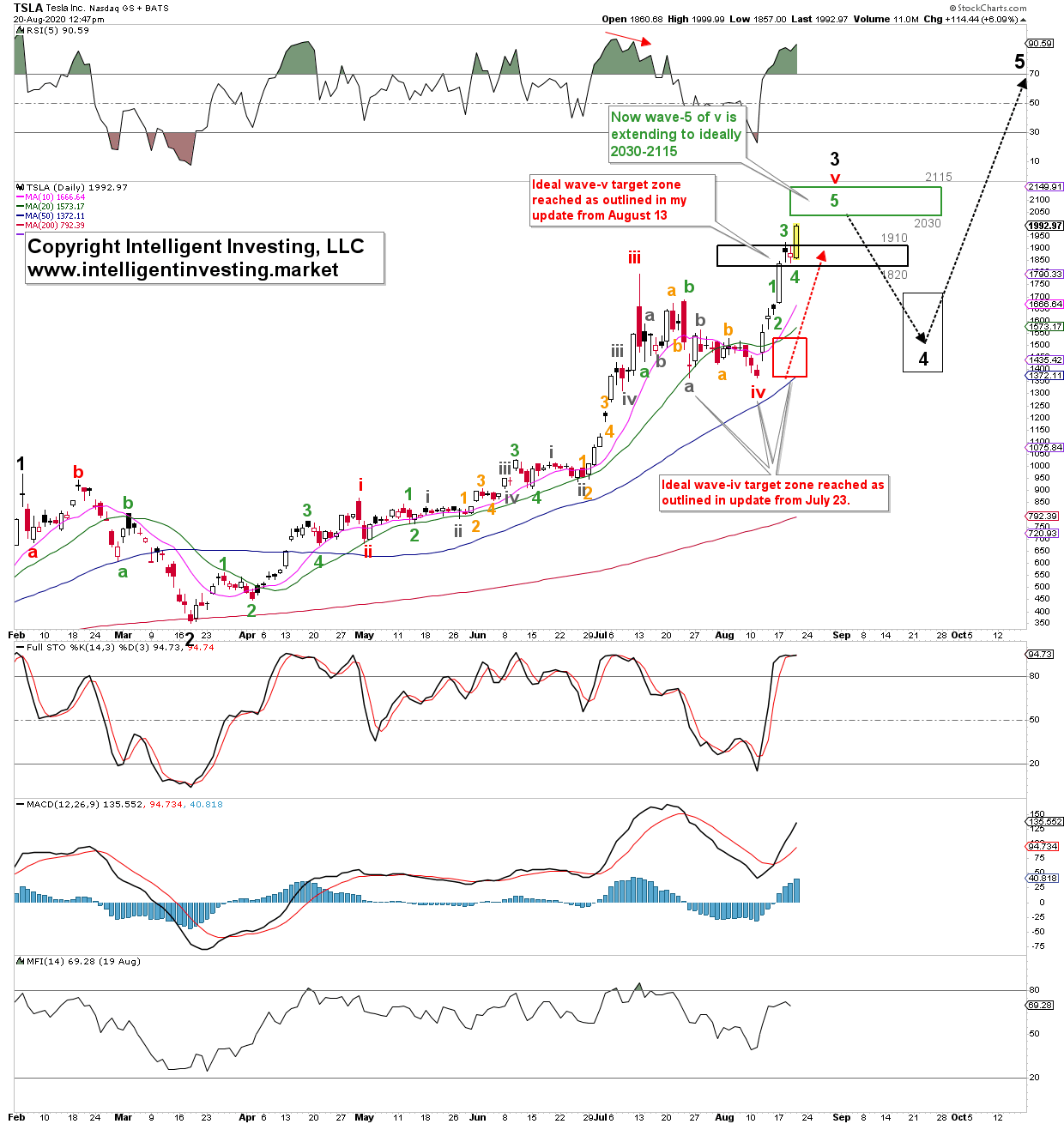 Tesla Daily Chart.
How could one have traded this rally successfully using my work? Since I put my money where my mouth is, I went long TSLA on Aug. 12 at $1,548, with an initial stop at the then-tentative wave-iv low ($1,365). This gave me 11.8% downside risk and 23.4% upside potential ($1,365 vs $1,910). A 1:2 risk/reward ratio. One should take that at any time.
I then sold half of my position at $1,615 on Aug. 13, and raised the stop to $1,567 (that day's low), guaranteeing a winning trade already. On Aug. 14, I sold another fourth at $1,665 and raised the stop at the end of the day to $1,626 (day's low). On Aug. 17, I sold another eighth at $1,816 as the price was very close to the $1,820-1,910 upside target. I then placed a 5% trailing stop on the remaining eighth of my position, which I still have. Thus, my trade has so far netted me +10%.
Not bad for a week's work. You can follow these trades via my hedge fund's trading service: northpostpartners.com. Why did I not hold the entire position all along? Because my analyses can always be wrong. Trading and forecasting are two different things. I used my forecasting skills to determine the next low-risk-high-reward trade, and then I used appropriate trading techniques to make money: sell into strength, move stops up, get a guaranteed winning trade and then let the rest ride for as high as it can go. Thus, I am still exposed to Tesla, albeit only one-eighth of a position, but I am exposed nonetheless, and I have absolute zero risk at this stage: It is all house money now. In the end, it's only about making money. It is not about who can hold an individual stock the longest. And as long as you consistently make money, then the markets are a fun place to be in. But that requires access to excellent forecasting and proven trading techniques. One does not jump in and hope for the best. Hope is not a strategy.