Now that Twitter (NYSE:TWTR) has started censoring U.S. President Donald Trump's messages, investors are wondering whether this fight will have any financial implications for the microblogging platform.
Twitter last week attached links to a pair of tweets from President Trump that declared California's plans to send mail-in ballots as "substantially fraudulent" and a "rigged" election. The links, part of the company's efforts to fact-check political statements, directed users to a page disputing Trump's claims.
"Fact checkers say there is no evidence that mail-in ballots are linked to voter fraud," the company concluded, citing news stories from media outlets.
Later, on Friday morning, Twitter attached a notice to a tweet from Trump regarding the riots that took place in Minneapolis, stating that the tweet violates Twitter's rules about "glorifying violence."
These actions triggered a swift response from Trump, who sees this censorship on social media as an affront to freedom of speech. The biggest potential threat for Twitter, and other social media companies, comes from the presidential executive order issued last week in retaliation for, among other things, Twitter's fact-checking effort. The order seeks to apply major changes to the way social media platforms operate.
The order effectively aims to redesign of the Communications Decency Act (Section 230), which provides legal immunity for social media platforms from the content posted by users on their sites.
Though legal experts don't believe the order stands a chance of surviving a court battle, it could increase the strain on social media giants, who are already under scrutiny for the spread of misinformation and hate speech.
According to a report in the Wall Street Journal:
"Controversy drives engagement on social-media platforms, so dust-ups with the president aren't necessarily bad for Twitter's near-term results."

"But threats of legal action from the government could put more pressure on social-media stocks, compounding existing concerns over privacy investigations and antitrust pressures."
These concerns help explain why Twitter's stock was down about 6% during the past week.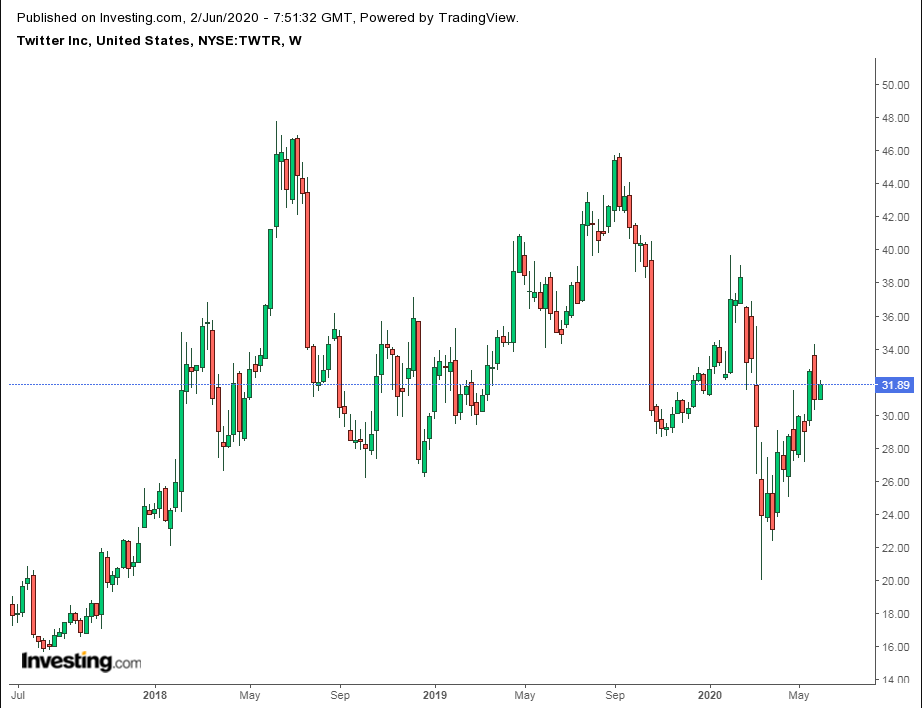 TWTR Weekly 2017-2020
However, it closed on Monday at $31.89, up almost 3% on the session, though little changed for the year.
Besides U.S. court battles and political controversy, Twitter can't remain selective in its approach to censoring content which it deems harmful. It has to enforce its editorial judgment across-the-board and globally. That means additional costs for the company at a time when advertising revenues are drying up during the COVID-19 pandemic.
And all of this controversy is occurring as CEO Jack Dorsey continues to try and navigate his, and his company's relationship with activist investor Elliott Management Corp., known for aggressive moves to oust underperforming CEOs. Indeed, Dorsey's position was under threat earlier this year before he and the investment firm reached an accord in March that, Bloomberg said, "set ambitious targets for daily active users, accelerated revenue growth and greater market share in digital advertising."
In Twitter's Q1 earnings report, released on April 30, the San Francisco-based company showed that its quarterly sales rose just 3%, the smallest increase in more than two years, as advertising spending took a hit from the pandemic. From March 11 to the end of the quarter alone, sales plummeted 27% from a year earlier, and a similar pattern played out in April.
Bottom Line
When the dust finally settles, it may not be the Trump Administration that has a significant impact on Twitter, even if some of its efforts to re-shape the social media landscape succeed. Rather, at least in the short-run, Twitter could face additional scrutiny along with cost escalation as it tries to show that its censorship policy isn't Trump specific.